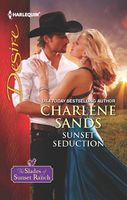 Series:
Slades of Sunset Ranch
(Book 2)
The night she'll never forget...is a night he can't remember

Audrey Thomas can't forget the night of passion she shared with Lucas Slade, the man she's loved for years. But it seems the sexy, superrich rancher has no clue who warmed his bed!

The mystery seductress at his Lake Tahoe retreat was Audrey? His best friend's off-limits kid sister? Now she's back at Sunset Ranch...and having his baby! Honor bound to do the right thing, Lucas never reckons she'll say I won't to his proposal-or that she'll settle for nothing less than all this cowboy has to give.
Very good book. When Audrey shows up at Sunset Ranch to apologize to Lucas for running out on him after they spent the night together she discovers that he has no idea it was her. He had been doped up on pain meds and only had vague memories of what had happened. So she accepts a job on the ranch to stay close to him until she can find a way to tell him.
I really liked Audrey. She feisty and independent and has no trouble going after what she wants. She has been in love with Lucas for years even though he treats her like a little sister. On that night she thought he had finally seen her as a woman. She was stunned and hurt that he didn't remember what had happened but she was also determined that he would see her for the grown woman she was. I really liked the way that Logan's fiancee did her best to help Audrey with opening Lucas's eyes. I also liked the way that she doesn't put up with his overprotective attitude. I loved the fact that she refused to accept a marriage proposal based on honor only and held out for love. The scene between Audrey, her brother and Lucas was a perfect example of the way that Audrey has learned to stand up for herself against the men who try to do things "for her own good".
Lucas has spent a good share of his life looking at Audrey like a little sister. He never really noticed her as a woman. He wasn't sure he hadn't dreamed the encounter at the Tahoe cabin and he certainly never connected that sexy encounter to Audrey. When he hires her to work with his horses he starts to notice her as more than Casey's little sister, but tries to resist those feelings. It doesn't help that there is something about her that reminds him of that night. When he discovers that it was her he is shocked and horrified at what he had done but he is also still attracted to her. I loved watching him try to reconcile the two ideas of his best friend's little sister and the sexy woman he slept with. It is such a struggle for him. When he finds out about the baby and proposes because it's the right thing to do he can't believe she turns him down. Lucas has the problem that he doesn't do long term relationships, he keeps everything light and short term so that he doesn't have to engage his emotions. It took Audrey's refusal and departure for him to finally face his past and realize why he runs from emotions and why he can't run from his feelings for Audrey.