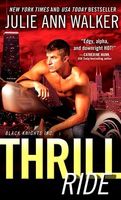 Series:
Black Knights Inc
. (Book 4)
HE'S GONE ROGUE

Ex-navy SEAL Rock Babineaux is as Cajun as they come--spicy, sexy, and more than a bit wicked. But would he actually betray his country? Even his best friends on the special-ops Black Knights team aren't sure they can trust him. Now the target of a massive manhunt, Rock knows the only way to protect the team--especially his partner, Vanessa--is to run...

SHE WON'T BACK DOWN

Rock might think he can outmaneuver them all, but he hasn't counted on how stubborn Vanessa Cordero can be. And she refuses to cut him loose. Sure, her partner has his secrets, but there's no one in the world she'd rather have by her side in a tight spot. Which is good because she and Rock are about to get very tight...
Wow. Intense action right from the beginning. Rock has been accused of going rogue and is on the run from his own government. It doesn't take long for his teammates at BKI to figure out that he's been set up, but finding a man who doesn't want to be found isn't going to be easy.
I loved Rock. When we've seen him in previous books (Black Knights Inc) he's been pretty quiet and is often off doing other work when he's not on a mission. When he realizes he's been set up and targeted for elimination because of that other work he disappears so that he can figure out what happened. He is determined to do this alone as he does not want his friends at BKI to be sucked into his mess. He is stunned and angry when Vanessa tracks him down and tries to get her to go back without him. Before that happens they are located by the feds who are after him and have to go on the run. The race through the jungle in intense with the descriptions so good I could almost feel the humidity and hear the wildlife. The attraction between Rock and Vanessa also intensifies but Rock makes it clear that nothing will come of it. He has a past that makes him avoid commitment and he sees her as someone who wants more. Throughout the story he has a constant battle to try to keep her at arm's length. I found his fear that his problems could harm the Knights logical, and also loved the way that they refused to let him shut them out.
Vanessa hasn't worked at BKI for long but she has been drawn to Rock since the beginning. She is the team communications and language expert. She is especially attuned to sounds and something about his voice just intensifies her attraction to him. She is the first to express her disbelief at the accusations against Rock and ultimately is the one who finds him. I love her determination and strength of will. She has a couple of insecurities that affect her actions but is helped through them by Rock. She also knows what she wants from Rock and isn't afraid to go after it even though he keeps trying to push her away. I loved the way she brought him back together with the Knights even though it was incredibly hard on her. Besides her growing love for him Vanessa's biggest focus is on helping him prove his innocence.
One of my favorite things about the BKI books is how tight they all are. There is nothing more important than supporting your teammates. Besides that support I love all the interactions among them: Bill getting testy when his sister or Frank make comments about their marriage, Ozzie's obsession with movies and 80s music, the sizzle between Eve and Billy. I loved the way that they all worked together in Costa Rica to save Rock from the feds; it was a fantastic plot. I also love the humor that is always there as they find some unique ways to solve some problems. The mystery itself was well done - I had no clue who had done it until the end.