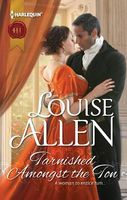 THE SECRET LIFE OF MISS PHYLLIDA HURST

Having survived the scandal of her birth with courage and determination, the beautiful Phyllida has reached a precarious balance within the ton. And in just one moment Ashe Herriard, Viscount Clere, blows her world and her carefully made plans to pieces.

Brought up in vibrant Calcutta, Ashe is disdainful of polite London society, but something about Phyllida intrigues him. There's a mystery surrounding her. A promise of secrets and a hint of scandal-more than enough to entice him!
Very good book. Phyllida has worked very hard to overcome the stigma of her birth. To the people of the ton she is her brother's illegitimate sister but mostly accepted because her behavior is above reproach. They don't know that she has a secret life that she uses to pay the bills for herself and her brother. She has accepted that she will never marry and has made her own plans for her future. Ashe's arrival in London opens her eyes to feelings she never thought she'd have, but also reminds her of what cannot be.
I really liked both Phyllida and Ashe. Both of them have things from their pasts that have shaped who they are now. Phyllida is strong and independent as she has had to be to keep herself and her brother from starving. They are now to the point where her brother has matured into his role and is looking for a wife that can help him bring his estates back from disaster. All Phyllida has to do is avoid any scandal that would make him look bad. When she meets Ashe she is attracted to him but knows nothing can come of it. Besides the drawback of her birth there are other things that make it impossible. She also doesn't want to give her heart to a man who only has one thing on his mind, but that heart has other ideas. There is much about Ashe that she really likes but she won't allow her problems to impact him and his family. She also doesn't want to do anything that will ruin her brother's chances with the woman he has come to love.
Ashe is immediately attracted to Phyllida. He likes her independence, her intelligence and her sense of family. He is dismayed to find out she is not suitable for marriage, but is more than willing to make her his mistress if he can just convince her of the merits of the arrangement. He also knows he needs to marry a woman who can help his mother and sister navigate through society since they are unfamiliar with English ways. One thing he has decided is that he will protect his heart by not falling in love with anyone. He had lost the one woman he loved and doesn't want to go through that pain again. I really liked his protectiveness toward Phyllida and the way that he tried to keep her safe. He could tell that she had secrets and that made her more appealing. I loved the way that his experiences in India made him confident enough in himself that he was able to spit in the face of society on some things while using their attitudes for his own purposes on others.
I really liked seeing the way that both Ashe and Phyllida opened themselves up to each other, allowing their past hurts to be healed. I also liked the way that the things they did were done in order to help their families even as they made things more difficult for themselves. I loved their interactions and the way that Ashe really appreciated Phyllida's intelligence. They had some marvelous conversations that really showed how perfect they were for each other.