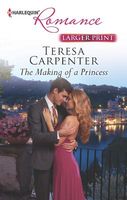 Series:
Princess Camp
(Book 3)
""For the first time man and soldier are at odds as desire wars with duty...""
Sworn to serve the royal family of Pasadonia, dedicated soldier Xavier LeDuc has never had any trouble putting duty before desire--until he encounters redheaded beauty Amanda Carn. She's sweet, seductive and all too familiar looking. Could she be the King of Pasadonia's long-lost daughter? Surely things like that only happen in fairy tales....
If she's proved to be royalty then Xavier will have to keep his distance, but he's been bound by royal command to protect Amanda until the truth is discovered. Keeping Amanda safe is his new mission--and where could be safer than in his own arms?
Very good book. Amanda and Xavier were drawn to each other as soon as they met. He also thought she looked very familiar and sent her picture to his Prince. Although he knew he should keep his distance Xavier couldn't stay away and they very quickly became close. After a surreptitious DNA test it was discovered that Amanda was his daughter and Xavier was charged with protecting her and bringing her to Pasadonia.
I really liked both Xavier and Amanda. Amanda had been brought up by her grandparents after her mother died in childbirth. They were older and set in their ways. They were also kind of cold and unemotional. Amanda was thrilled when she got a job that enable her to move out on her own and finally have a bit of freedom. When she and her friend Michelle went to an exhibit of the Pasadonian jewels she was flattered by Xavier's interest and really attracted to him. I loved the way that being with him gave Amanda a greater sense of herself and what she wanted. There was something about him that gave her the strength to stand up to her grandmother and insist on getting more information about her parents. When Xavier broke the news about the identity of her father she was hurt and angry because she felt that he had been lying to her about his feelings just to watch over her. I loved seeing them together in Pasadonia and how Amanda learned so much about Xavier and what kind of man he was. I also loved the way that she finally had a family that showed their love and support for her. I also loved seeing the Prince deal with a grown up and independent daughter - such fun!
Xavier had always been a soldier focused on doing his duty. When he first saw Amanda he was drawn to her and wanted to get to know her. When he saw her resemblance to the Prince he knew he should step back in case she was royal, but he just couldn't do it. I loved his protectiveness and the care and respect he showed her from the beginning. I also liked the way that he could see her desire for the closeness that he had with his family. Xavier was torn between his growing love for Amanda and what he felt was his duty to his Prince and his country. The time they spent in Pasadonia only made the conflict harder. I loved his conversations with the Prince regarding Amanda. The conclusion was the perfect fairy tale ending for them both.