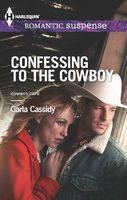 Series:
Cowboy Cafe
(Book 4)
"The Price of Deadly Secrets..."
Someone is killing waitresses at the Cowboy Cafe. Three women are dead, and Sheriff Cameron Evans means to find out why. But as he works to solve the case, the hunky sheriff must push beyond his feelings for the cafe's owner. There's a murderer on the loose. Passion has no place here.
For Mary Mathis, the crime is personal. Not only are the victims her employees, they may be a sign of something deeper. Eight years ago she came to Grady Gulch fleeing a violent past that has scarred her for life. Now she has to discover if that history is dooming the women who work for her. She already knows it has made new love impossible--no matter what she may secretly desire.
Excellent book and conclusion to the series. Cameron is at his wit's end. Someone is killing the waitresses at the Cowboy Cafe but whoever it is isn't leaving any clues behind. Mary is worried about her waitresses and now she starts to think the deaths are aimed at her personally. Mary and her son came to Grady Gulch eight years earlier. Shortly after that she bought the cafe and has been running it ever since. While Mary is friendly to everyone she keeps her own life very private. When she starts getting things that remind her of her old life she goes to Cameron and confesses her past to him.
I really liked Mary. She took control of her life when her husband's abuse became too much, doing whatever was needed to keep herself and her son safe. I loved the way that throughout the series she was always there to help others who needed it. She has been drawn to Cameron since the very beginning, but because of her past does not allow herself to pursue those feelings. When she starts receiving reminders of her past she realizes that the murders may be related to it, so she decides to go to Cameron and tell him everything. She is afraid she'll end up in jail and also fears Cameron's reaction to her story. She doesn't want to lose his friendship. When those fears are relieved their relationship starts to heat up, but Mary fears that Cameron will now become a target. She also doesn't really trust her feelings and fears risking her heart.
Cameron has been attracted to Mary since she arrived in Grady Gulch. He seems to be content to see her every day at the cafe and doesn't try to push a relationship. I liked the way that he has a softer side that shows in his care for the little dog and the way he is there for Mary's son. When the murders begin being around Mary is the only thing that relieves his stress a little. When she comes to him and confesses her past he is stunned. He is also angry at everything she went through and impressed by what she has made of her life. The first thing he does is check into her story and finds that she is not guilty of what she thought she was. He then uses that information to find out if her past has indeed come to Grady Gulch. I really loved his determination to solve the murders and to keep Mary and her son safe. Even when Mary initially rejects his love he is intent on remaining close to her.
The suspense itself, of discovering who was killing the waitresses was very intense. Cameron and his deputies are stymied by the complete lack of evidence at the scenes and frustrated by their inability to make progress on the case. As we finally discover the who, the question becomes how. The mind games played on Mary amped up her fear. When the final confrontation came the disclosure of the murderer was an unexpected twist. I loved the way that Mary was able to take control and face him down.