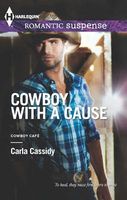 Series:
Cowboy Cafe
(Book 3)
"I'd apologize for kissing you, but I'm not all that sorry."

Dancer Melanie Brooks had escaped small-town Oklahoma, giving up the country for Broadway's bright lights. Yet after her mother's funeral called her back, her own health issues forced her to stay. Now her tenant, too-hot-for-his-own-good Adam Benson, is giving her a reason to dance again. But has a killer set his sights on her, too?

Adam knows a little something about fresh starts. As for his beautiful neighbor, he doesn't see a wheelchair -- he sees a woman who understands. But as the heat grows between them, he can't avoid the feeling that more than her big-city past haunts her -- and that danger has been lurking, waiting to strike….
Very good book. Melanie is back in her hometown. She had been planning to leave again after her mother's funeral but she ended up staying because of her health issues. She has spent the last seven months holed up in her house feeling sorry for herself. But she really needs the money that renting out the top floor of her house would bring in, so she rents it to Adam. She has resigned herself to being alone for the rest of her life, but suddenly she has an intense attraction to Adam to deal with. She also finds that he is drawing her out of her self-imposed isolation and making her dream of a different future. She feels, though, that it wouldn't be fair to Adam to tie him to a woman in a wheelchair so she denies her feelings. Melanie is a lot stronger than she thinks she is. When she is targeted by a stalker she is able to think past her panic and save herself. With Adam's help she is also able to start to take charge of her life and future. I wanted to shake her a few times when she would start to accept possibilities for her future and then she would talk herself right back to her "poor me" attitude.
Adam was a great guy. He has finally pulled himself back together after the tragedies of losing his sister and then his oldest brother trying to murder someone. Now he wants to figure out what he wants to do with the rest of his life. When he rents his rooms from Melanie he doesn't expect the instant attraction to her. She is dreadfully rude to him but he recognizes the attitude of someone who is dealing with too much. Even though he knows she doesn't want his help he can't resist her. He really wants her to realize that just because she is in a wheelchair doesn't mean that she isn't a beautiful, wonderful woman who can do anything she wants to do. I loved the way that his love for her grows steadily the more he is with her and that he really doesn't see her as limited in what she can do. I loved the way that he was so steady in his love even when she was pushing him away. He also refused to accept her attitude that she was useless and showed her that she still had a lot to give.
The mystery continues about who is killing the waitresses at the Cowboy Cafe. When attempts are made on Melanie's life Adam steps in to make sure she is safe. There are things about her attacks that make it seem like it is the same person, but other things just don't add up. This kept me reading well past bedtime as I tried to decide if this was the killer or someone else that had a problem with Melanie. The sheriff is growing more frustrated with each murder and the lack of evidence that is found. I am really looking forward to the next book and finding out who and why.