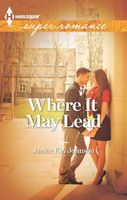 Series:
Wakefield College
(Book 1)
A revelation that could ruin everything!

Instant attraction is the stuff of books and movies. Or so Alumni Relations Director Madison Laclaire believes...until she meets Detective John "Troy" Troyer. From closing down the restaurant on their first date to sharing steamy looks in meetings, Madison is completely into Troy. Even better, the feelings are mutual. Once this alumni weekend is over, they can pursue the plans they have for each other.

But those plans get sidelined when the college opens a decades-old time capsule. Inside, a student confesses knowledge about the campus's only murder-an unsolved murder. Worse, Troy's investigation points to Madison's father as a suspect. Suddenly her loyalties are split. And making the wrong choice could cost her a future with Troy....
Very good book. Troy and Madison met because their jobs had them working together. They are immediately attracted to each other and find that they have a lot in common. They are looking forward to spending more time together after alumni weekend is over. But things get thrown into turmoil when a time capsule in opened and a murder is brought back into focus. Troy's late father has confessed to possible knowledge and Madison's father ends up as a suspect.
Madison loves her job at Wakefield College and she is good at it. She looks forward to the alumni weekend and the opening of the time capsule and even more so after she meets Troy. Besides their official duties they will also get to spend time together socially at some of the events. I really loved their immediate connection. When Troy comes to her with the contents of his father's letter she is stunned at the implications and can't believe it of her father. I liked the way that she is determined to help Troy find out the truth even though it looks bad for her father. She also has to confront her issues with her father and the feeling that she never quite lived up to his investigations. There was a lot of tension that built up as Madison had to reconcile her feelings for her father and her growing love for Troy. I really liked the way that she was finally able to talk to her father about her feelings and how she credited her feelings for Troy with giving her the confidence to do so.
Troy was a really great guy. He had come back home a couple years previously and gone to work for the local police department. When his father died he took over looking out for his mom who was really grief stricken. I loved his reaction when he first met Madison and the way that he just couldn't get her off his mind. When he read his father's letter from the time capsule he had a lot of emotions to sort through. He was amazed and disgusted by his actions, he was hurt that his dad could have done such a thing yet emphasized honesty while he was growing up, and really worried about what it would do to his relationship with Madison. I liked the fact that he didn't cover it up and that he would go about the investigation in the right way. It was also hard on him as the investigation went on and it did start to affect his relationship with Madison. It said a lot that he realized his biggest problem was feelings of jealousy over her relationship with her father and that when he finally got it he was able to make things right with her.
The investigation itself was very interesting. After that many years trying to track down witnesses was a challenge. I loved the way that the witnesses attitudes had changed over the years, making them more open to telling the truth. I have to say that I hadn't figured out the identity of the murderer until the very end.