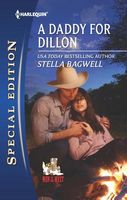 Series:
Men of the West
(Book 26)
CAN LOVE CHANGE THIS LONELY COWBOY?

Having struggled for years, Leyla Chee wasn't about to mess up her temporary job as cook on the Chaparral Ranch. That meant focusing on her work, her young son and her dreams of going back to school. And certainly not being tempted by the sexy foreman who devoured her cooking, put a smile on Dillon's face and made her own heart race!

But Laramie Jones's strong shoulders seemed ready to share Leyla's burdens. His rough hands smoothed away her cares. And his mouth...well, what he did with that mouth made her blush! Yet Laramie was a man without a real past-could she trust that what he really wanted was a future with her?
Good book. Leyla was filling in as cook at the ranch and saving her money to go back to school. She didn't want the distraction of getting involved with Laramie. Leyla had had a rough few years with Dillon's father wanting nothing to do with them, her father kicking her out, and nearly giving birth on the side of the road alone in a snowstorm. She's determined to make a better life for herself and Dillon. She's never met anyone like Laramie, who is not just good looking he is incredibly kind to her and Dillon. Leyla is surprised by how quickly Dillon takes to Laramie. She is moved by the interest he takes in her son and dreams of having a man like him in her life. But she is afraid because nothing good ever lasts for her. It was hard to see her fight her feelings just because she couldn't trust in the strength of their love. I loved the way that she was finally able to accept his love and open herself up to the future.
I really liked Laramie. He is attracted to Leyla from the beginning and it quickly moves to deeper feelings. This surprises him because he has never expected to feel that way. He was raised by a bachelor who wasn't related to him and had never been exposed to the kind of love that would be found between a man and woman. He was taken by little Dillon and enjoyed being around him and doing the kind of things a father would do. This just added to his growing love for Leyla. He began to have dreams of them being a family, something he had not really had. I really liked his patience with Leyla and her fears and how he was willing to change his life for her. There was a very nice twist at the end where Laramie finally had his questions about his parents answered.