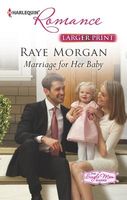 Series:
Single Mom Diaries
(Book 2)
"Two strangers and a baby..."
Spontaneity might be in her blood, but walking down the aisle to wed a stranger is hands down the riskiest thing Sara Darling has ever done. But to adopt her infant niece she'll first need to say an "I do" of convenience.
As the baby's biological father, soldier Jake Martin can take away Sara's dream come true. War-traumatized Jake's not sure he's instant family-man material, but something about Sara and his gorgeous daughter makes him want to break free from the prison of his past. He might just need their ready-made family as much as she does....
Good book. Sara is ready to take the final steps to adopt her niece when the baby's father shows up to take custody. She is devastated at the idea of losing little Savannah and is determined to convince Jake that he isn't father material. But no matter what she does Jake always seems to be able to cope with it. I have to say that Sara's attitude really bothered me. She should be happy that Savannah has a father who is so intent on giving her the best life that he possibly can. It seems that all she does is whine about how she's going to lose her and plot to undermine his confidence. She doesn't expect to be drawn to him and have so much inner conflict. First she wants him to fail, then she's praising him for what he does right, then screaming at him when he makes a mistake. I wanted to shake her. When she realized that she was falling in love with him she consented to the marriage of convenience in hopes that he would fall for her too. I did like the way that she finally got him to open up to her about his experiences. Unfortunately she didn't seem to understand that his feelings about his friends were a large part of who he was.
Jake was stunned to find out that he was a father. He was worried about being a good father because he had had a very unconventional upbringing, but he was determined to do it right. He felt bad about taking Savannah away from Sara, but he was not going to give up. I loved seeing him tackle all the bits like diapers, bathing and feeding. He was a bit clumsy but did his best. He had never planned to get married and have a family, but he sure stepped up when he found out about Savannah. I also liked the way that he understood what Sara was feeling but wasn't going to cave in. As he spent time with her learning about Savannah, he also started to have feelings about Sara that he didn't understand. He hadn't been exposed to love growing up and didn't really recognize it when he started to feel it. I liked the way that he tried to explain his feelings about going back for his friends and felt bad that Sara just didn't get it. I thought that his compromise at the end was just right.