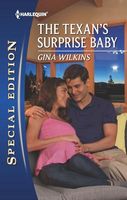 Series:
Bell Family
(Book 2)
THE PITTER-PATTER OF LITTLE TEXAS FEET?

One night of passion with P.I. Andrew Walker and what does Hannah Bell have to show for it? A baby bump that's about six months along! No longer willing to trust her instincts when it comes to romance, Hannah decides to make a go of being a single mom. With her family rallying around her, Hannah knows her baby will be welcomed with love and joy.

Accidental or not, Andrew wants to be part of his baby's-and Hannah's-life. He prides himself on always doing the right thing...as long as he doesn't get too involved. But the more time he spends with Hannah, the more he likes the idea of a family of three!
Fun book. Andrew is the twin brother of Aaron who we met in The Right Twin. He had assisted the Bell family when Hannah's ex-husband embezzled money from their resort. At the time Andrew was drawn to Hannah but knew better than to get involved with a client. When she showed up at his office in December to thank him again they had dinner together and ended up spending the night together. The next morning she panicked and sent him away not trusting herself and her emotions. Six months later Andrew finds out that she's pregnant and has to decide what to do.
I really liked both Hannah and Andrew. Hannah no longer trusts her instincts when it comes to men and relationships. She was attracted to Andrew while he was helping them but after giving in to her attraction that night she was afraid to trust herself. She refused to tell anyone who the father of her baby was while she was trying to decide what to do. She knew she had to tell Andrew, especially since his twin was going to be part of her family. When he showed up she asked him not to say anything until she could find a way to tell the family. I felt bad for her because she was so worried about being able to trust herself. She knew that she loved him and that he wasn't anything like her ex, but she just couldn't bring herself to believe that a relationship would last. She was also determined that she would stand on her own feet and not depend on anyone else to take care of her. She tended to take that attitude a little too far when Andrew tried to protect her from the attacks on her. I did like the way that she wanted to be sure that he was involved in the baby's life. I also liked the way that she refused to allow him to talk her into marriage for what she saw as the wrong reasons.
Andrew was great. He seemed kind of uptight as Aaron's brother in the first book, but in this one we just see him as a bit of a workaholic. I loved the way that he immediately jumped to the right conclusion when Aaron mentioned Hannah's pregnancy in passing. He quickly made the trip to the resort to talk to her in person. I really liked the way that he let her know he intended to be involved but that he also will let her decide how to tell her family. I thought that the way that he watched out for her was really sweet especially since he was trying not to give anything away. While he had not intended to become a father this soon I loved the way that he was so excited about the baby. The sonogram scene was especially emotional. He was pretty clueless about his proposal and I loved the way that Shelby called him a dummy - twice - because of it. I also liked the way his aunt told him to answer three questions and then think about his proposal again. I loved the closeness of both families even though Andrew got so frustrated with the constant interruptions every time he tried to have a talk with Hannah.