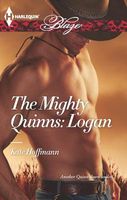 Series:
The Mighty Quinns
(Book 22)
He's just an average, irresistibly sexy guy…

It's a long, hot trip from one side of Australia to the other, but horse breeder Logan Quinn has a job to do -- sell his favorite filly, and dream of a home and a horse ranch of his own. When he stays over at a posh horse farm, however, his dreams turn to fantasies about the owner's daughter. And for just one night, he gives himself up to sweet surrender….

One night isn't nearly enough for heiress Sunny Grant. She'd be crazy to let a scrumptious bloke like Logan disappear from her bed and her life. Now she wants more -- even if it means stowing away in his camper van!

With nothing in common but a white-hot attraction, they'll travel across the Land of Oz -- together. But nothing in this journey will ever prepare them for their destination!
Very good book. In order to pay the bills at his horse ranch, Logan has to sell his favorite horse. As he is driving her across Australia to her new home he stops at a fancy horse farm overnight. There he meets Sunny. Sunny is drifting after her Olympic dreams crashed and burned, but something about Logan draws her in. After one awesome night together, Sunny stows away in his camper so she can go with him.
I really liked both Logan and Sunny. Logan is a really sweet guy. He worked long and hard to get the money he needed to start his own horse ranch. He doesn't want to sell his filly since she was going to be one of his breeders but he needs the money to keep the ranch going. When he meets Sunny he is very attracted to her but knows she is well out of his league. He doesn't expect her to show up at his camper and give him the best night he's ever had. When he finds her in the camper the next day he decides to let her tag along on the trip. I really liked the way that Logan knew what he wanted and was willing to do the tough things to make them happen. Even though Sunny was willing to buy the horse from him he was determined to honor his commitment to the original purchaser. I loved seeing him get to know Sunny as they traveled and how his emotions got more involved. As much as he came to love Sunny he still had some serious issues with their economic differences. They had a lot in common with their love of horses but he still had a hard time thinking that there could be anything permanent between them.
Sunny had spent her life trying to live up to her father's expectations. When her Olympic dreams tanked her father became even more obnoxious to her and she was even more lost as to what she wanted to do with her future. Logan's arrival on her father's horse farm was just what she needed. Her attraction to him was instant and intense. She didn't want to stop at one night with him and decided to tag along on his trip.
They started out with plans for just being together for the length of the trip and then going their separate ways.

She started out as seeming pretty spoiled with not having to think about money or consequences of her actions. The more time she spent with Logan the more she started to think about what she really wanted her life to be like. I liked the way that she came to understand Logan and his dreams and how she realized that she wanted to be a part of his future. I also enjoyed seeing the ways she had changed by the time she got back home.
I liked the way that the prologue set up the premise of the series. When the elderly Ms. Quinn discovers that she has family she never knew about she sets out to find them. Logan is the first she locates. I love the effect that her search has on him.