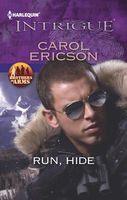 Series:
Brothers in Arms
(Book 5)
IF THEY EVER FIND YOU, RUN

Those are the words Jenna Stark has lived by for three years. But now the stakes are much higher. Her child is in danger and only one man can keep them alive. The man who forced her into a life on the run: her husband.

Cade Stark curses the day he was recruited for a covert ops organization-and the perilous assignment that tore the Navy SEAL from his new wife's side. Cade's only mission now is to protect Jenna and their young son. On the run from a vengeance-seeking arms dealer, desire reignites, hot and unstoppable. That's when Cade realizes how much he'll risk to win back Jenna's trust. And how far he'll go to offer his son a future.
Good book with plenty of action. Jenna and Cade had married four years ago just as he was recruited for a covert ops unit. When one of his missions went wrong Cade sent Jenna and his son into hiding to protect them. Now they are in danger again and Cade has come back into their lives.
I liked both Jenna and Cade. Jenna had loved Cade when they got married but his missions put a strain on their relationship. When one of the bad guys started threatening the team's families Cade sent Jenna and his son away with instructions to run if they were found. Jenna has been very careful, not staying too long in any one place and teaching their toddler son how to hide and be quiet in an emergency. When her home is searched she goes on the run again and this time is rescued by Cade himself. I really liked the way that she has become very independent and resourceful. She accepts Cade's help in order to protect their son, but spends the first several chapters being pretty snarky to him. She spends a lot of time blaming him for their troubles and making some pretty mean comments. She also realizes that she had never stopped loving him and makes the decision to lighten up on him. I really liked her ability to adapt. No matter what happened she was able to go with it and keep moving. In spite of everything that happened she kept her faith that Cade would keep them safe.
Cade had sent them away to protect them but made sure he always knew where they were. He checked up on them as often as he could without Jenna being aware of his presence. When the bad guys found out about Cade's son they tried to kidnap him to use as leverage against Cade. I loved the way that he was prepared for so many things even as things went wrong. As the book went on it got harder for him to know who he could trust. He quickly realized that Jenna had changed a lot from the girl he had married and was fully capable of handling anything that came at them. I loved the way that he started out wanting to get Jenna and Gavin back in his life permanently and made sure Jenna knew that was his plan. I really liked the way that he bonded with Gavin so quickly. He was worried about being a good father since he hadn't had a good example to follow. The ending was satisfying as far as the relationship between Cade and Jenna went, with enough of a cliffhanger on the mystery to make me ready to read the next book as soon as possible.