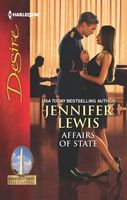 Series:
Daughters of Power: The Capital
(Book 6)
American Royalty

First she discovers she's the secret daughter of the American president, then she falls for a British prince. Ariella Winthrop's life can't get much more complicated. Or can it?

Having fun with Simon Worth-passionate meetings, hiding their attraction from the public-is one thing. But getting serious? The British monarchy certainly doesn't want their beloved prince dating an American, much less one with her fair share of scandals. But when Ariella discovers she's pregnant with a royal baby, all bets are off. This woman is fighting for what is hers.
Good book and nice conclusion to the series. As of the last book (
A Very Exclusive Engagement - Andrea Laurence
) the mystery of how the secret of Ariella's birth was discovered has been solved and the perpetrators have been caught. Now it is time for Ariella to meet her father and come to terms with her new life. She has been trying to keep things as normal as possible, continuing her work as an event planner and being with her friends. At one of her events she meets Simon Worth, British prince, and one of the sexiest men she's ever met. She assumes he wants to use their company to plan an event and treats him as a client. She is attracted to him but is well aware that, as a prince, he is far out of her reach for anything permanent. She finds herself quite comfortable with him, enjoying his sense of humor, his outlook on life, and the way that he understands what she is going through. When she visits him in England some of his family members make her feel less than welcome. She realizes that she's fallen in love with him and that it is an impossible situation. When she discovers that she is pregnant she decides that she isn't going to follow in her parents' footsteps and that she will fight for what she wants. I also really enjoyed her developing relationship with her parents and seeing the difference they make in her life.
Simon first notices Ariella at an event he is attending and makes sure to meet her. He is interested from the first in pursuing a relationship with her, but realizes that she is very skittish. He uses the planning of a charity event to get close to her first then makes it clear to her that he is interested in her on a personal level. He knows that his family has been pushing for him to settle down with an "appropriate" bride, but he has always been the independent sort who does things his own way. It doesn't take long for him to realize that what he wants with Ariella is more than just a fling. All he has to do is convince her. I thought that Simon was a bit on the clueless side when he failed to consider that his family would not be thrilled with his pursuit of Ariella. I did like the fact that he did not give up on getting what he wanted and was willing to do whatever he had to do. I really enjoyed the way that he truly listened to Ariella and was able to help her deal with her notoriety. I really loved the ending.