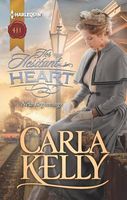 ON THE FRONTIER OF A NEW LIFE...

Tired and hungry after two days of traveling, Susanna Hopkins is just about at the end of her tether when her train finally arrives in Cheyenne. She's bound for a new life in a Western garrison town. Then she discovers she doesn't even have enough money to pay for the stagecoach! Luckily for her, the compassionate Major Joseph Randolph is heading in the same direction.

As a military surgeon, Joe is used to keeping his professional distance. But, despite Susanna's understated beauty, he's drawn to this woman who carries loss and pain equal to his own and has a heart that is just as hesitant and wary....
Fantastic book. I was drawn into the story from the beginning. I really liked both Susanna and Joe as characters. Susanna has come to the West to start her life over. She fled her abusive husband who then divorced her accusing her of abandoning their son. Divorced women are not treated well during this time period and Susanna has a miserable time of it. She meets Joe when he gives her a ride back to the fort. Her cousin lives there too and has told people that Susanna is a widow not divorced which causes problems later.
I loved Susanna's strength. She had the courage to leave her husband when he nearly beat her to death. She had to leave her son behind and that constantly wears on her. She worries about his safety and misses his presence in her life. After her divorce she headed West to be a teacher. She is very cautious around men thanks to her husband. When she meets Joe she is struck by his kindness and gentleness. On the journey to Ft. Laramie she comes to like and trust him. Her arrival at the fort shows her the lie her cousin told and she has a feeling that it will cause problems but she doesn't know how to fix it. She discovers that fort society is even more judgmental than her hometown was. I really liked the way that she did not join in the snobbishness of her cousin. Susanna is the kind of person who is good all the way through. She spends a lot of time helping out in the hospital and with the women of the fort. I loved the way that her own troubles made her more empathetic with the ladies she made friends with. When her past became common knowledge and people were cruel to her she first started to give up, but thanks to Joe decided to live her life her way. I loved the way that she and Joe started out as friends and then their feelings began to grow into love. It is a gentle sort of love that grows, not one full of heat, but it is strong.
Joe had lost his wife in a horrendous accident and has closed off his heart ever since. He is a good doctor and a kind person. He recognizes Susanna as a kindred spirit who has known great loss and sorrow. He finds it very easy to be nice to her. He is aware of her past and it makes him understand what she has been through. I loved the way that he is there for her in small and large ways. He finds things for her to do that will keep her busy. He also introduces her to women that will not judge her and who become good friends to Susanna. I loved seeing the way that his feelings for her change and grow. They also help him come to terms with the loss of his first wife. Joe's life as the fort doctor is not an easy one, especially when he has to deal with a superior officer who has had it in for him since the Civil War.
The historical detail of what life was like in a western fort during the Indian wars was fantastic. I loved the way that Joe's activities were described and the details of what he had to do as the fort doctor were incorporated into the story. The realism of the way that divorced women were treated was well done and made Susanna an even more sympathetic character. I also liked the supporting cast and loved seeing the way that they related to both Susanna and Joe. I really liked the portrayal of the lives of the ordinary men and women of the fort. No one was perfect and everyone had things that they had to deal with.