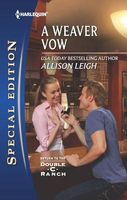 Series:
Return to the Double C Ranch
(Book 7)
CITY GIRL SEEKS...

When Isabella Lockhart leaves New York for Weaver, Wyoming, she's keeping a vow-to provide a loving home for her late fiancé's little boy away from the bad influences of the big city. But trouble is this kid's middle name, and right away his antics put Isabella on a collision course with handsome rancher Erik Clay.

...SMALL-TOWN HERO

Not that that's a bad thing! The real problem for Erik is the instant attraction he feels for this beautiful Big Apple transplant. The sworn bachelor just doesn't want to go there. But pretty soon, Erik realizes that he has a vow of his own to keep-to make this wounded woman whole again, starting with her heart....
Very good book. Isabella had come to Weaver to get Murphy out of the city where he was constantly getting into trouble. The problem is that Murphy is full of fear and anger which makes him do stupid things. When he gets into it with Erik Isabella begs him not to send Murphy to the sheriff, so Erik sets it up so that Murphy comes to his ranch to work off the damages. Isabella is terrified that Murphy will be taken away from her. He is all that's left of her relationship with his father, who she still loves. She can't imagine ever wanting someone else. She doesn't expect this attraction to Erik and she doesn't want it. She feels it's more important to devote her energies to Murphy. Having grown up in the foster care system she doesn't want that life for him. She also is very wary of getting involved with or close to anyone because in her experience relationships never last. She doesn't quite know what to do with Erik and his family who just absorb her and Murphy into their circle without even thinking about it. Erik tells her that he wants her in his life but that he's willing to wait until she's ready. I felt so bad for Isabella and her certainty that nothing good in her life ever lasts. That's why she clung to her memories of her fiance and was afraid to open herself up to Erik's love.
Erik was great. His introduction to Murphy wasn't the greatest, but I loved the way that he was willing to work with Isabella. Part of that was because he saw something of himself in Murphy and part was because he was so attracted to Isabella right from the start. He fights it a little at first because he doesn't think he wants the whole marriage and family thing yet. But he soon realizes that what he feels for her is very different than what he's felt for anyone else. I loved the way that he took charge of Murphy and didn't let him get away with things. He also gave Murphy the attention that he needed. I loved the way that Erik was honest about his feelings to Isabella but also told her that he wouldn't push. He had a terrific way of sensing what she needed and being able to do something about it. I loved the way he was so close to his family and how that made him able to help Murphy and Isabella.
I love books with big families that are so supportive of each other. There is always someone who has just what is needed to help the current hero or heroine.