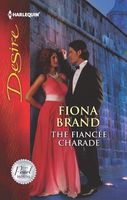 Series:
The Pearl House
(Book 4)
Some bonds can't be broken

When billionaire Gabriel Messena sees that former fling Gemma O'Neill might be settling down with another man, he knows he has to act fast. He wants her, and he'll use any excuse to get her back. Luckily, he needs a fiancée to regain control of his family's business, and he wants Gemma for the part.

Gabriel's proposition is truly unexpected, though exactly what Gemma needs to secure permanent custody of her daughter. Their daughter. Being back in Gabriel's bed is amazing, but once he finds out what she's kept from him, how long will the honeymoon last?
Good book. Gemma has temporarily lost custody of her daughter due to lies told by a former nanny. In order to get her daughter back she needs to show that she has steady employment - a stable relationship wouldn't hurt either. Gabriel needs a fiancee to get control of the family bank so that business can get back to normal. Seeing Gemma again makes him realize how much he still wants her.
I liked both Gemma and Gabriel. Both certainly had issues that made a relationship between them difficult until those could be overcome. Gemma had worked for Gabriel's family when she was a teenager. She had quite a crush on him and at one point they began a romance. They kept it secret because of their differences. When Gabriel's father is killed and he has to take over the business they part ways. When Gemma discovers she is pregnant she doesn't tell Gabriel because there is no way that they can be together because of the potential scandal. She feels badly about keeping the secret but sees no other way. She goes to work for Gabriel's cousin Zane (A Perfect Husband) and is accused of carrying on an affair with him, causing her to lose custody of her daughter. She is stunned when Gabriel comes to her with his proposition. It will solve her problem so she accepts. She fights her attraction to him unsuccessfully and also realizes her love for him had never died. She is fighting a battle within her heart. She wants to marry him because she loves him and wants her daughter to have her father in her life. But she is also afraid of being caught in a marriage where he has only married her because of their daughter, that he doesn't actually love her the way she needs his love.
Gabriel has never forgotten Gemma. When his father died the family was embroiled in scandal because his father had been having an affair with one of his employees. Gabriel saw his father's actions as a sign of a loss of control and vowed he wouldn't succumb himself. He left Gemma behind because, beside the fact that she too was an employee, he could see himself becoming just as obsessed as his father had been. He kept tabs on Gemma through the years, believing the stories he read about her and his cousin Zane. Finally he decided that he wanted her back and used his need and hers to engineer their engagement. His attraction to her had never stopped and he took advantage of it now to get her back in his bed. He felt that she was trying to keep a distance between them and he didn't understand why. He was still trying to maintain control over his feelings until he realized that he loved her too but she didn't know it. I really liked the conclusion - very romantic! I also liked the way that he understood her reasons for not telling him about the baby and that he didn't get angry.