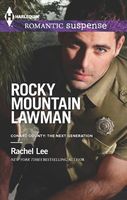 Series:
Conard County: The Next Generation
(Book 15)
SHE WANTED PEACE. INSTEAD SHE FOUND DANGER -- AND A REASON TO LIVE AGAIN

When Skylar Jamison heads to the Wyoming Rockies, all the army veteran wants is some rest. But as a stranger warns her away-off public lands-every war-torn nerve she has goes on alert.

The ranger who investigates makes her even more wary, for very different reasons. Smart, good-looking, with an inner calm Sky envies, Craig Stone sparks her interest and wakes all her fears.

Craig didn't plan on inviting Sky to stay with him. But there are armed strangers in his forest. And Sky-tough, vulnerable, sexy Sky, everything he's ever wanted-is their target. They are each trained to handle danger. It would take both of them, together, to survive this new threat....
Very good book. Sky came to Conard County on vacation to paint and recharge her batteries. She wasn't expecting to run into a man who tried to chase her off the park property where she was painting. There was something about him that made her wonder what was going on. When she meets Craig he sets her nerves on edge a different way. She is attracted to him but worries about those feelings. The presence of armed strangers in the woods causes him to ask Sky to stay with him as they investigate.
Sky only wants to be left alone to paint. The stranger in the woods sets her on edge and brings back some less than pleasant memories of her time at war. Her encounter with Craig brings up some other memories that are equally disturbing and some feelings that she doesn't know what to do with. She had just ended a relationship with a man who shredded her self esteem as a woman and she was afraid to do anything with her feelings because she thought that he might be right. I really loved her self-sufficient attitude and ability to be happy without depending on someone else. She was confident in her ability to keep herself safe. I also liked the way that she was determined to stay around and help Craig and be the backup she was sure he would need. She was cautious about sharing her feelings and it took awhile for her to be able to open up with Craig. Once she did it changed their relationship a lot. She had one more bout of not believing before she was finally able to accept her feelings and his, but it was just the eye opener she needed.
Craig was a man who is happy with his own company. He has no problem spending days at a time out in the woods. When he meets Sky there is something about her that really touches him. With the possible presence of danger in the woods he talks her into staying with him so that he can keep an eye on her. As he spends more time with Sky he finds that she fills a hole in his life that he didn't know he had. Besides worrying about her safety he is concerned that she wouldn't be able to handle his lifestyle. I really liked the way that he could see her vulnerabilities and was able to help her through them. I especially liked the way that he dealt with the damage that her ex-boyfriend had caused. I also liked the way that Craig was able to accept Sky's help, trusting that she was able to deal with problems that came up. I also liked the way that he came to realize the strength of his feelings and wanted to keep Sky in his life.
The suspense itself kept me wondering what was going to happen next. I felt badly for Buddy and the way that Cap was taking over. Buddy was definitely not the brightest crayon in the box but he wasn't a bad person. The premise behind the story was a bit on the scary side, though I know people like that exist.