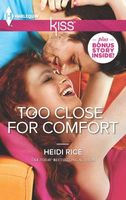 Up close, and way too personal!

Breaking and entering is hardly her style, but Iona MacCabe needs her passport back from her ex's motel room.

Jaded L.A. private investigator Zane Montoya is staking out a con man's motel room when this pretty Scottish girl gets seriously in the way. For her own safety, he'll keep her under his very close protection....

Except independent, willful Iona is not best pleased to be "rescued"-even by someone as sexy as blue-eyed, gorgeous Zane! And when he discovers just how innocent she really is, suddenly their scorching attraction feels even more dangerous....
Very good book. I really liked both Iona and Zane. Iona had followed her ex from Scotland to try to recover the money he had conned out of her father. Zane stops her just before she ruins the investigation he's been working on for six months. She fights back, not caring about his investigation only her attempt to make amends to her father. I loved the way that she stands up to "Detective Sexy" when he tries to overrule her on things. Her attraction to him is intense and he uses that attraction to overcome the insecurities caused by her ex. I loved that those insecurities would show in ways that would confound Zane. Meanwhile she tries to understand why he always seems to hold himself apart from his family even though it is obvious how much they love him. Her faith in his goodness is something he doesn't understand and she doesn't know how to convince him.
Zane is a great blend of sexy and sweet. He is a man who loves women. He knows how to please them, he protects them, but he won't allow them to get close to him. He is afraid of losing control and becoming like his father. His fears have caused him to only allow himself the most superficial of relationships. When he meets Iona there is something about her that makes him forget all his rules. She meets his family, he moves her into his home, and she distracts him from his work. I love watching him as he fights his feelings. When she gets to the root of his issues he is stunned when she tells him he is being an idiot and to talk to his mother about the truth, and then disappears. I loved the way it was all finally resolved.