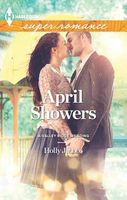 Series:
Valley Ridge Wedding
(Book 2)
Rainbows don't come without rain

The world you want isn't always how the world is. Former Marine Sebastian Bennington discovers that upon his return to Valley Ridge for a friend's wedding. Even his grandfather's health isn't what he's expecting. Nor is the interference from his grandfather's young business partner, Lily Paul.

Even more aggravating, Lily seems to know everything about Sebastian, thanks to his grandfather. But Sebastian can't get her to open up about anything. Is she using all that merry sunshine to hide something deeper and darker? He's determined to find out, as long as their crazy attraction for each other doesn't get in the way....
Very good book. Sebastian has returned to Valley Ridge for his friend Colton's wedding before moving on to figure out his future. His return isn't what he was expecting. He is recovering from injuries that have ended his career in the Marines and is trying to decide who he is now. He expects the peace of home to help him. When he arrives he finds out that his grandfather's health is failing and his business partner is a young attractive woman who attracts and infuriates him. He doesn't want to accept Lily's concerns and is pretty rude to her at first. The fact that she knows so much about him because of his grandfather's stories is unsettling to him. I really liked the way that he soon realizes that Lily was right and he begins to spend more time with her as they care for Hank. He grows closer to her but sees that she has secrets behind her sunshiny personality that she won't share. He wants her to trust him and open herself to a future with him. I also enjoyed the way that in spite of his plans to leave after the wedding he gets more and more involved in the life of the town. His initial anger and guilt over his circumstances begin to lift as he feels more in control and useful. I loved the gentle way that he helped the old ladies and the way he helped young Joe by giving him a job helping with house repairs. I really liked the way he refused to give up on a relationship with Lily.
Lily had moved away from home to escape, though she stayed in touch with her mother. Lily's personality always seemed to be of the eternally happy, though we eventually get to see that she sometimes has to work at that happiness. When she came to Valley Ridge she immediately felt at home. I loved the way that she's more than just a home health nurse, that she gets involved in doing more than just nursing for her patients. She has gotten closer to people there, making good friends like Sophie and Mattie and feeling like part of Hank's family. Sebastian makes her angry when they first meet because he accuses her of some unfair things and refuses to accept her warnings about Hank. She sticks to her guns though and doesn't gloat when Sebastian finally realizes that she's right. She's attracted to him which worries her because she doesn't do relationships. She doesn't believe she is capable of trusting a man enough that way. Sebastian's plans to leave after the wedding make her feel safe in entering a temporary relationship with him. I like the way she begins to realize that she can trust him and starts to share things with him that she's never told anyone else. As they deal with Hank's issues she tries to ignore the growing feelings she has and reminds herself that he's leaving. She had a lot to overcome to accept that she could have a happy future too. I loved the way that she came to that realization.
I loved seeing the way that Lily and Sebastian worked together to help Hank. They didn't gloss over the problems and dealt with them in a realistic way. There were some wonderful scenes dealing with Hank's forgetfulness and confusion. I also enjoyed the set up for the next book. I had a feeling that things had been going too smoothly for Sophie and Colton.