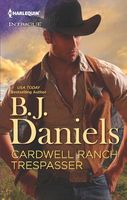 Series:
Cardwell Ranch
(Book 3)
CARDWELL BEWARE

The Cardwell clan has a new, mysterious member. Dana Cardwell warmly welcomed her Justice cousin into the family fold and to the ranch for a reunion. But this cunning kin has other plans for Dana...and designs on her husband, Hud.

Hilde Jacobson has known Dana too long to let her best friend get conned-or worse, killed. Unfortunately Hilde is no match for a skilled impostor who's duped everyone in the canyon. Only Deputy Marshal Colt Dawson believes Hilde's claims about the phony relation; only his strong arms have saved her from "accidents" intended to get her out of the way. Together can they convince the Cardwells that a predator lurks in their happy home?
Very good book. The suspense started from the first chapter and didn't stop. Hilde has been friends with Dana for six years and they have gotten to know each other very well. When Dana asks Hilde to go along with her to welcome a recently discovered relative Hilde is glad to do it. Unfortunately, something about Dee Anne Justice rubs Hilde the wrong way and she doesn't trust her. Hilde is a pretty straightforward person and she doesn't hide her feelings well. Pretty soon strange accidents start happening to her and she suspects that Dee is behind them. When she expresses her suspicions to Dana and her husband she is accused of imagining things or being jealous of Dana's relative. Colt is the only one who believes her. Colt had been asking Hilde out but she had turned him down because of his reputation with the ladies. But as they work together to find the truth Hilde realizes that she had misjudged him. Their romance progressed pretty quickly thanks to the stress of the situation. I really liked Hilde's loyalty to her friend and the way she was determined to protect Dana even through Dana's bad treatment of her. She even put Dana's safety ahead of her own.
Colt had been smitten with Hilde for some time. He used to date some empty headed women but soon realized that he had outgrown that kind of relationship. I liked the way that he wasn't going to give up but was willing to wait awhile before trying again. When the trouble started between Hilde and Dee Anne he was skeptical at first but soon agreed with Hilde that something wasn't right. He was very glad that he was around to protect Hilde. I loved the way that he was willing to do what was needed to get to the truth, even risking his job and his friendship with Hud and Dana. Colt was such a sweetheart with Hilde, being there when she needed him and also knowing that she wasn't making things up.
I really wanted to smack Hud and Dana. How Hud, as a lawman, would allow a stranger into their home without checking her out is beyond me. Once strange things started happening he should have checked her out. Dana really pissed me off a lot. She had been friends with Hilde for six years and she suddenly starts taking a stranger's word over Hilde's. She should have been at least a little concerned about what Hilde was talking about. Both of them deserve the guilty feelings they ended up suffering. Hilde didn't deserve the way that they treated her and it would take me a long time to forgive them.