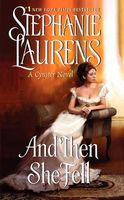 Series:
Cynster
(Book 22)
The only thing more troublesome than a Cynster man ...

... is a Cynster lady who believes love is not her destiny. Famously known in London society as "The Matchbreaker," Henrietta Cynster's uncanny skill lies in preventing ill-fated nuptials -- not in falling victim to Cupid's spell.

But then she disrupts one match too many and feels honor-bound to assist dashing James Glossup in finding a suitable bride for a marriage-of-convenience.

A task infernally complicated by the undeniable, unquenchable attraction that flares between James and Henrietta, who continues to believe she will never fall ...
Very good book. Henrietta has made a reputation for herself as a "matchbreaker" by helping young women discover if their suitors are courting them honestly. When she breaks up the potential match of her brother's best friend James, he is furious. He needs to marry by the end of the month in order to retain his inheritance and keep all the people on his estates employed. Henrietta offers to help him find a suitable bride in time for his needs.
Henrietta is twenty-nine years old and has never been in love. She believes she is one Cynster who is destined not to fall. She feels guilty when she finds out why James is so desperate to find a wife and offers to help him. As she works with him to find out who would suit she discovers that she is attracted to him but believes it is only her that feels that way. She finds it harder and harder to look for someone else to marry him when she wants him for herself. When she is plagued by several suspicious accidents James is the one who saves her. I really enjoyed her independent practical look at life. She is secure in her position as a Cynster but doesn't lord it over people. She loves James deeply and is willing to do whatever it takes to keep him safe.
James is furious at Henrietta's interference. She is his best friend's younger sister and he can't believe she would do that to him. When he confronts her she offers to help him and he takes her up on it. As they spend time together at events, trying to find him a suitable spouse, he begins to realize that the only woman he wants is Henrietta. He just has to figure out how to convince her because she doesn't appear to be thinking the same way. When she is nearly killed in an "accident" they admit their feelings and make plans to marry. But to do that they have to find out who is trying to kill Henrietta.
The second half of the book deals mostly with the search for the person who is trying to kill Henrietta. They bring in the other Cynsters to help, but that doesn't work. The murderer is part of their world and seems to be very intelligent and devious enough to evade their attempts to find out who he is. I loved the final confrontation where, once again, the women are the ones to come up with the successful plan because the men are just too heavy-handed. There was enough tension in that final push to keep me up well past my bedtime in order to finish the book.