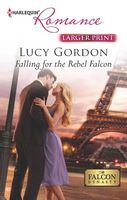 Series:
The Falcon Dynasty
(Book 4)
"Getting the scoop on the rebellious Falcon "
Journalist Perdita Hanson has a reputation for getting the best scoops in the business She's on a mission to get the gossip at the Falcons' latest glitzy wedding when she bumps into one of the notorious Falcon brothers....
In order to get behind the closely guarded doors of this infamous family, Perdita accepts Leonid's spontaneous offer of being his date. Perdita never expects to fall for the roguish Leonid, but when he discovers who she really is, their sparks of attraction turn to fireworks of betrayal Can their budding romance ever recover?
Good book. Perdita starts out trying to get into the wedding in order to do a story on the Falcons, especially Travis. She is thrilled when a small ruse results in Leonid asking her to pose as his date for the wedding. During that weekend she discovers that she doesn't want to do that story on the family, that she has come to like them. She also discovers that there is something about Leonid that she just can't resist.
I liked Perdita. She was smart, funny and adventurous. She also was self aware enough to realize that she wasn't happy with her business as usual way of doing things and was willing to make a change. I especially liked the way she seemed to understand Leonid and his various issues. As they spent more time together in the weeks after the wedding she also realized that her job as a journalist was likely to cause a problem when he found out, but she could never find a good time to tell him. I really liked the way that she was able to connect with Leonid's mother. I loved the way that Perdita used her talents to force Leonid's father to visit his mother. I did feel that she was a little to forgiving of Leonid's treatment of her.
I had a somewhat harder time connecting with Leonid. I understood his issues with feelings of rejection and betrayal, but I felt that he was far too rigid in his attitudes. There was absolutely no room to adjust for the reasons someone deceived another person. I did like the obvious love that he had for his mother and the way that he took care of her. His feelings for his family were also clear, but he also kept part of himself separate from them as if he didn't quite trust that the relationships would last. The time he spent with Perdita opened his heart somewhat, but part of him was always waiting for that moment of betrayal. I really wanted to smack him and tell him that no one is perfect and he needs to join the real world. I'm not quite sure that he really deserves Perdita's love and understanding. It will be interesting to see them appear in later books and see how they are doing.