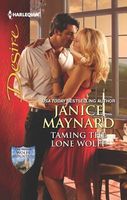 Series:
Men of Wolff Mountain
(Book 6)
A Wolff in Protector's Clothing

Protecting people for a living is one thing. But wealthy security expert Larkin Wolff wants no such responsibility in his personal life. Emotional involvement with clients is strictly forbidden. Only, he's never had a client like Winnie Bellamy. The waiflike heiress is a beguiling blend of innocence and sexuality. Larkin knows the dangers of getting too emotionally involved, but when Winnie obviously needs him-personally and professionally-how can he say no? The vulnerable beauty makes him long for what he can't have. And suddenly Larkin's ready to break all his own rules.
Excellent book. Larkin and Winnie are both wounded souls who have avoided emotional entanglements. When Winnie hires Larkin to provide security for her after a magazine article creates problems for her she doesn't expect the intense attraction she feels for him. Larkin also feels the attraction. In order to provide the security he feels she needs he does something he's never done before - he takes her home to Wolff Mountain.
Winnie is an interesting character. She had a sheltered childhood with older parents who never quite knew what to do with a child. She had a bad time after their deaths and ended up involved with a man who treated her badly. This led her to a desire to help women and children who had no resources to escape abusive relationships. When the magazine article caused her to fear for the safety of those under her care she hired Larkin. Her attraction to him scared her because she felt that he was way out of her league. Winnie's one sexual experience left her with deep seated feelings of inferiority. When he took her to his home to help provide her with the safety she needed she was very nervous about what she was sure would happen. She was also very wary of meeting his family for fear of what they would think. She had no experience of what life was like in a family like that. I loved seeing her watch the interactions among them and try to understand. She did a good job of standing up for herself, especially with Larkin's father. I also enjoyed seeing the way that she ultimately fit in with everyone. I really liked seeing the way that her mix of boldness and shyness kept Larkin off balance. Her self worth issues really caused some problems with the developing relationship between them. She knew she was falling for him but was sure that nothing would ever come of it. She had a lot more inner strength than she thought she did and it really showed at the end.
Larkin had spent most of his life in protector mode. Even as a child he tried to protect his little sister and take care of his older brother. When both of them found loves of their own he was finally able to relax. He swore that he would never take emotional responsibility for anyone ever again. When he met Winnie all his self imposed rules went out the window. He wanted her in a way he'd never wanted another woman and this scared him. He knew he shouldn't get involved with her but he couldn't stop himself. He could see her vulnerability and innocence and he just wanted to make everything better for her. I loved the way that he was so driven to be with her but was also able to be patient and give her the ability to take things at her own speed. He kept telling himself that he had made a mistake bringing her to Wolff Mountain but his heart didn't agree. He fought his feelings so hard. I loved the way that he was there for her at the end with the problem at her shelter. He finally had to admit that he wasn't the lone Wolff he had thought he was.