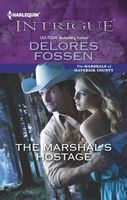 Series:
Marshals of Maverick County
(Book 1)
SECRETS HAD TORN THEM APART...AND REUNITED THEM IN A WAY NEITHER HAD EXPECTED

She Is the last person Dallas Walker ever wants to see again. Still, this U.S. Marshal has no problem taking Joelle Tate into "protective custody"-on her wedding day. To save his family from unjust charges, he'd take on a lot worse than an ex-flame he couldn't trust. But Dallas doesn't know Joelle has put her freedom on the line to protect him. Now with only two days to investigate a long-buried crime no one wants solved, they must confront their past mistakes, and the shattering secret that drove them apart. Giving in to the simmering desire may lead to an impossible second chance-or help set a trap one calculating killer can't wait to spring....
Good book. Dallas and his foster brothers had all been residents of a group home run by a man who used to beat them. About the time his foster father took them all away the man disappeared. Now Dallas's old girlfriend is about to marry a man who was also one of the residents and she has information that could link his foster father to murder. When he confronts her shortly before her wedding he discovers she is being blackmailed into the marriage. He takes her away and they end up with just two days to find out the truth.
Dallas has no intention of letting his father be charged with murder. When he confronts Joelle he also has to face the fact that his attraction to her is still there. I really liked watching him fight his feelings as he finds out that the only reason she is marrying Owen is to protect Dallas from being charged with murder. The only way they can save themselves is to work together. The more they investigate the more people they find who had the motivation and the opportunity. Dallas is also confronted with the reason that she broke things off with him when they were teenagers and he now has to deal with those feelings of betrayal. I loved the way that Dallas's loyalty and gratitude to his father caused him to be certain that the man was innocent and that he was willing to do whatever was needed to find the truth. I also loved the way that he finally accepted the truth of his feelings for Joelle.
Joelle was being blackmailed by Owen into marrying him. She had information on him also but she was more concerned about protecting Dallas than getting Owen. Joelle had never gotten over her teenage love for Dallas. She had broken things off with him to keep him from giving up the chance for a better future and as a result had broken both their hearts. She knew that he would never forgive her if he ever found out the truth. I loved her strength of will and the way she was willing to protect Dallas. She also had an excellent ability to figure things out and was able to find out some things about two of the murder suspects that they hadn't known before. I loved the way that she accepted responsibility for keeping her secret but also made sure Dallas knew why she had done it.
The mystery and action were pretty intense because of the short time in which they took place. The unraveling of the clues was very intricate because of all the possible suspects.