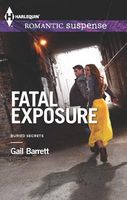 Series:
Buried Secrets
(Book 1)
"Silence is her only protection"
Pulitzer Prize-winning photojournalist B. K. ("Brynn") Elliot chronicles Baltimore's grittier side with her lens--a talent cultivated from her years as a teenage runaway. A reclusive figure, Brynn lives under everyone's radar...until a photo from her past plunges her into the crosshairs of powerful enemies.
Detective Parker McCall has devoted fifteen years to trying to solve his brother's murder, and with the release of a photo implicating Brynn as a potential suspect, he feels close to finding justice. Determined to get answers, Parker must ignore the inexplicable attraction he feels for the haunted beauty in the photo. And Brynn must decide if Parker will protect her or betray her in his hunt for a killer.
This was a fantastic book from the very beginning. Brynn is a photojournalist who zealously guards her privacy. When she was a teen runaway she witnessed a murder that put her on a hit list. With her two friends they have stayed out of the public eye to protect themselves and each other. When a reporter takes her picture and publishes it she is put back into danger. Parker recognizes her from a picture of her with his brother who had also been a runaway and drug addict and was murdered fifteen years ago. He considers Brynn to be a suspect and goes to see her for answers. But those answers only lead to more questions.
Brynn is an amazingly strong character. She had run away from home as a teen to get away from her stepfather who was sexually abusing her. She had tried reporting him, talking to counselors and other things but no one would believe her because he was a respected citizen. While living on the streets she had made friends with two other girls and Parker's brother. Tommy had done his best to protect them and they took care of him. When Brynn witnessed a murder Tommy had gotten between the murderer and Brynn and died to save her. Now she is back in the crosshairs with the murderer wanting her dead and her stepfather wanting to get his hands on her too. He has a lot more to protect now and his ways haven't changed. When Brynn is confronted by Parker she realizes that she is going to need help to save herself and bring her stepfather down. She is very wary about trusting him, since he is a cop and her experience with cops has been very bad. She is also attracted to him and that worries her even more. I loved the way that she had taken her experience as a runaway and turned it into a talent for photographing the world of Baltimore's streets. She also uses her knowledge to help as many runaways as she can. She had a hard time trusting Parker at first but he soon showed that he was as determined to find the truth as she was. She was also determined to do whatever she had to in order to stop her stepfather from harming anyone else. Her experiences on the street gave her a different viewpoint than Parker's and between the two of them they were able to get the information they needed.
Parker had been searching for his brother's killer for years. After their father's suicide Tommy had gotten into drugs and had run away. Parker had tried to help him and had felt guilty that he hadn't succeeded. When he found Brynn he thought at first that she was the killer. He soon realized that she wasn't but that she had information that could help find him. He also had the problem that her stepfather was his boss and had charged him with bringing Brynn in. His problem was that what her stepfather told him and what Brynn told him were very different and he didn't know who to believe. He was also attracted to Brynn which was messing with his objectivity. The more time he spent with Brynn the more he believed her but he still didn't want to believe that his boss was like that. Parker was deeply conflicted but the evidence was building up quickly. He also had the problem of trying to tell Brynn who his boss was without her feeling betrayed and losing her trust. I really enjoyed seeing Parker's suspicion turn to belief and then into respect for everything she had overcome.
Both Parker and Brynn had trust issues that they had to deal with in order to come to their happy ending. That trust was essential for them to be able to work together to solve the mystery of who killed Tommy and also to stop Brynn's stepfather. The action, both physical and mental, in the book was nonstop. The ending was intense with a very interesting twist. There is also a bit of the mystery left unsolved which leads into the next book.