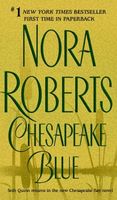 Series:
Chesapeake Bay Saga
(Book 4)
Seth Quinn is finally home.

It's been a long journey. After a harrowing boyhood with his drug-addicted mother, he'd been taken in by the Quinn family, growing up with three older brothers who'd watched over him with love.

Now a grown man returning from Europe as a successful painter, Seth is settling down on Maryland's Eastern Shore, surrounded once again by Cam, Ethan, and Phil, their wives and children, all the blessed chaos of the extended Quinn clan. Finally, he's back in the little blue-and-white house where there's always a boat at the dock, a rocker on the porch, and a dog in the yard.

Still, a lot has changed in St. Christopher since he's been gone-and the most intriguing change of all is the presence of Dru Whitcomb Banks. A city girl who's opened a florist shop in this seaside town, she craves independence and the challenge of establishing herself without the influence of her wealthy connections. In Seth, she sees another kind of challenge-a challenge that she can't resist.

But storms are brewing that are about to put their relationship to the test. Dru's past has made her sensitive to deception-and slow to trust. And Seth's past has made him a target of blackmail-as a secret he's kept hidden for years threatens to explode, destroying his new life and his new love. . . .
The last book in one of my favorite Nora Roberts series, this one shows one of her greatest strengths - the incredibly close families that she writes about. Seth the boy is all grown up now and coming home. He's been working in Europe for the past five years, determined to make his mark on his own terms. He's missed his family though and is also tired of running from the past. His love for his family is obvious in everything he does. He's not sappy with his brothers, they all know how they feel and they show their love in the teasing they do and how they are there for each other. His love for the women in his family is soft and warm and very protective. Seth himself is generally cheerful, laid back except when it come to his art when he can be very intense. From his first meeting with Dru he is captivated by her. He sees her beauty first and wants to paint her, but it's the woman who fascinates him. I love his won't take no attitude in the way he pursues her, but also his gentleness in that pursuit. He has some great moments in that pursuit with the way he meets all the challenges of overcoming her cautiousness around him. I also loved the way he held his own around her family and stood up for her to them. His love for her nearly made him push her away to protect her from his mother. His determination to keep Gloria away from his family and the lengths he went to were heartbreaking. I loved the way that she was finally dealt with.
Dru was fantastic. From a wealthy family she has spent her life dealing with her parents and their expectations and she finally had enough. She broke off her engagement to the "right" man who cheated on her and moved to St. Chris to pursue the life she wanted. She owns a flower shop and has a good life doing what she loves. I loved her from the first, when she helped Seth pick out the right flowers for his sisters-in-law and niece. She is cautious and not inclined to get involved with the smooth talking painter. Her introduction to the Quinn family was hysterical and so far from what she was used to that she wasn't sure what to do. She was attracted to Seth and liked his family but she still had trust issues to overcome. She had a great scene with Aubrey after she accused Seth of having strong feelings for her. She also had some serious issues with her family who tended to be pretty darned snobbish and completely unwilling to let her live her own life. I loved the way that she slowly opened herself up to the possibilities with Seth. She also grew to understand him very well. I loved their confrontation at the end when the whole blackmail thing came out and the way she was there for him.
The best thing about this book is the strength of the family relationships. Seth knows that he is loved and that he is always able to come home. In his worry about keeping his family safe he forgot the family creed that if you mess with one Quinn you mess with them all. I loved catching up with all the rest of the family and seeing how their lives have been since the end of the original trilogy. The conversations Seth had with his late grandmother were a neat touch and helped bring the story full circle.