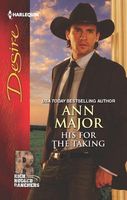 Series:
Rich Rugged Ranchers
(Book 6)
A Bad Girl's Secrets

Years ago, when Maddie Gray ran away from Yella, Texas, pregnant and alone, she left behind an undeserved reputation-and her young lover, rancher and oil heir John Coleman. Now she's on the edges of his sophisticated world once again, determined to keep all her secrets.

With Maddie back in his life, Cole finally has a chance to forget her for good-if he can. The single mother is more beautiful, passionate and mystifying than ever, and Cole will stop at nothing to get at the truth. Even if that means making her his wife.
Not my favorite of the series. Maddie had come back to Yella to take care of a friend. She neither expected or wanted to see Cole again. The people of the town had always looked down on her and she had been happy to escape. Cole's reappearance has shaken up her plans for her future and her desire to forget her past.
I had a hard time liking either Maddie or Cole, though I liked her marginally better. Maddie had grown up with a mother who was basically the town drunk and slut. She worked very hard in school and to protect her own reputation but it did no good. Everyone thought she was just like her mother. As a teenager she fell for Cole and they indulged in a secret relationship, but she was always sure that he still considered her beneath him. Her attempts to contact him after she left were rejected so she made a life on her own with her son. I liked her determination to better herself and the success she made of it. She was a good mother and had a good life. I didn't particularly like her approach to her future marriage to Greg - it was far to emotionless and calculated. I understood her reasons, but it was kind of cold. When Cole barged back into her life she tried to keep him at a distance but her attraction kept getting the better of her. Whenever they were apart she would be able to see what she should do but she just couldn't stand up to him in person. She also had some serious issues with really caring what the people in town thought of her instead of believing in herself. She admitted to herself that she loved him, but she didn't have enough confidence to believe that he would be there for her. All she really wanted was to be sure that he loved and wanted her, not just taking her because he wanted their son.
Cole just irritated me. He blew hot and cold throughout the entire book. When he first heard she was back he trash talked her to his brother. He remembered how they were together but had no problem believing what her mother told him about why she left. When he saw her again he was overcome by his attraction to her even though he was angry about the past. But he listened to her explanation and appeared to believe her. I didn't like the way that throughout the book he just steamrollered right over what her wishes were and only considered what he wanted. He would seem to be coming around in his feelings but then something would happen and he would go right back to not trusting her. I did like that he accepted some of the responsibility for their misunderstandings but it just never seemed to make enough difference to his total attitude. He appeared to finally get it at the end, but it left me wondering if he would backslide. I do hope that there will be a story for his brother Adam. I liked him a lot more.