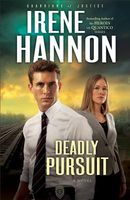 Series:
Guardians of Justice
(Book 2)
Social worker Alison Taylor has a passion for protecting children and seeing that justice is served on their behalf. But now it seems she needs protecting. Someone is making harassing phone calls and sending her bizarre gifts. When her tormentor's attentions take a violent turn, she calls in reinforcements. Her brother, Cole, comes to her aid, along with his new partner, Detective Mitch Morgan. As her relentless stalker turns up the heat and the danger intensifies, Mitch takes a personal interest in the case. Because protecting Alison has become more than a job; his future depends on keeping her safe.
Very good book. I really liked both Alison and Mitch. Alison is a social worker who is also recovering from bad injuries she received in a car accident and a broken engagement.
Alison's dedication to her job and how determined she is to help the women and children she worked with can also make her some enemies.

She has two over-protective older brothers who worry that she isn't moving ahead with her life. Cole talks her into helping out his new partner Match by attending a family wedding with him as his date. She hates it when Cole tries to set her up, but goes along with it this time. She ends up glad she did because Mitch turns out to be a really nice guy that she gets along with very well. She is also glad he is there when she gets another creepy gift left on her porch. She feels the potential in their relationship but she is cautious about depending on another man after the way her engagement ended. I really enjoyed seeing the way Mitch had a soothing effect on her fears and how she came to trust him.
Mitch is back in St. Louis to take care of his dad who had bypass surgery. He's trying to avoid the matchmaking attempts by his female relatives when he takes Alison to a family wedding. He isn't looking for a relationship but something about her really gets to him. Before the wedding is over he knows that he wants to see her again. When he finds out about the threats to her his protective instincts kick in also. I really liked Mitch's sweetness with Alison and his understanding of her feelings. I loved the way that he knew quickly that he wanted to keep her in his life but had the patience to move at her speed.
I usually prefer a bit more heat in my romances but Irene Hannon's books are always so good that I don't mind the difference. She does a lovely job of developing the relationship without depending on physical intimacies. There is a lot more time spent on getting to know each other. I really liked the epilogue.
The suspense part of the story was really good. It showed the escalation of the stalking and the buildup of the tensions. Part of the story was told from the stalker's point of view. His motivations and thought processes were definitely disturbing and went a long way toward adding to the intensity of the story. I really liked the way that there were multiple events and characters that all added to the progression of the story. As one thing built on another it got harder and harder for me to put the book down. By the time the end came I was wondering how it was going to happen. I loved the intensity of the finale.