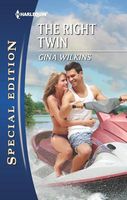 Series: Bell Family (Book 1)
DOUBLE TROUBLE!

It's a beautiful Texas summer, and Shelby Bell's idyllic lakeside resort is tailor-made for romance. So when Shelby suggests that Aaron Walker be her pretend boyfriend to help her catch a resort thief, she is sure it's the perfect plan. Aaron is handsome, smart and understanding-everything a woman could want in a beau. So what if her perfect boyfriend is a fake?

Having grown up in the shadow of his twin brother, Aaron is enjoying being the hero for a change. Shelby looks at him as if he is number one. But the more time Aaron spends with his quirky "sweetheart," the more their charade becomes all too real. Can Aaron convince Shelby that when it comes to romance, he is exactly the right man for the job?
Good book. I really liked both Aaron and Shelby. Aaron is tired of being compared to his twin brother and found wanting. He doesn't want any part of the family investigation business, but still hasn't found the career that he does want. After yet another lecture from his brother Aaron takes off for the Bell Resort where Andrew had done a job the year before. Once he's able to convince everyone he's not his brother Aaron settles in to figure out what he really wants to do. In the meantime Shelby has asked for his help and he's only too happy to give it. He's really attracted to her so it's no hardship to hang out with her. He also discovers that he really likes her. He appreciates her dedication to her family and the resort. He also likes her enthusiasm. One of the things I really enjoyed was seeing the way that Aaron fit in with the Bell family. It was easy to see that as he helped them around the resort that it was the perfect place for him, utilizing his strengths and desires. I also loved seeing what a really nice guy he is. I also liked the way that he jumped in to help Shelby with her suspicions about one of the resort guest. Spending that much time together showed him that she was just what he needed though the thought of a serious relationship with her scared him.
Shelby is the accountant for the resort. The previous year she had discovered that her brother in law was stealing from the family, which is how Andrew got involved with the resort. While she initially mistook Aaron for Andrew, she quickly realized that there was something different about him. She also never felt the things for Andrew that she did for Aaron. Now she has asked Aaron for his help with a guest that she feels is up to no good. I really liked the way that she trusted her instincts even when the rest of the family was giving her a hard time about it. I loved her intensity in everything she did. She wasn't sure that she could trust her feelings for Aaron after such a short time, but she couldn't resist them either. I loved her decision at the end that this was one "fish" she was going to keep instead of throwing back.
I loved the various family relationships. It was easy to see that Aaron's family and their nagging was driving him away. Even though Andrew was Aaron's twin he seemed awfully judgmental. Shelby's family seemed to take for granted that everyone would be happy sticking around and working for the resort. I liked the way that Aaron and Shelby's brother Steven got along and could relate to each other so easily. I'm looking forward to Andrew's story - sounds like he's got quite a surprise coming!