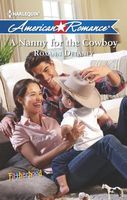 Series:
Hearts of Desperation
(Book 7)
Desperately Seeking A Sitter

Who knew hiring a nanny could get so complicated? Rancher Luke Walker has been caring for his two-year-old son single-handedly ever since his wife walked out, and he sure could use some help. But when he thought to find a nanny, he didn't have someone like gorgeous Hayley Brooks in mind. And he certainly didn't expect her to move into the ranch house!

Hayley is working toward being a physician assistant and needs to save money for her classes-and to save on rent by boarding with her employer. She's delighted that little Brayden warms to her quickly, but is wary of her growing feelings for Luke. It's a struggle keeping things professional.... Falling in love with her boss was not part of the job description!
Very good book. I liked both Luke and Hayley. Luke has a lot going on in his life right now. He is trying to run the ranch he owns with his brother. He is also dealing with being a single father of a two year old boy since his wife left them. He tries very hard to be a good father and I love how his love is so obvious. He has finally admitted needing help so his sister sends Hayley to him. He doesn't expect someone so beautiful and he's not sure he wants her living in the same house. But he's desperate and soon Hayley has become an important part of their lives. He has also developed an intense attraction to her that is growing into something stronger. This isn't good news to him as he never wants to put himself in the position of being walked out on again. He appreciates all she does for him and his son, and she impresses him with the way she is calm in a crisis, but the idea of risking his heart again scares him.
Hayley is studying hard to be a physician's assistant. Her plans got temporarily derailed when she got engaged, then her father had a stroke. She ended her engagement when she realized that her fiance had no intention of being supportive of her goals. Now she needs this live in job in order to be able to finish her studies. She feels an attraction to Luke from the start but doesn't intend to let anything interfere with her plans again. She is a little bit over-sensitive about what she thinks is his attitude toward her plans. I thought she suffered from a bit of tunnel vision about what her plans for the future should be. I loved seeing her with little Brayden and how obvious it was that she really cared for him. She also finally admitted to herself that she had fallen for him, but she still wasn't seeing that he was different than her ex.
I loved the way that they each finally let go of their old baggage at the end. Luke did a great job with his big moment at the end. It was fun seeing some of the previous characters as they all got involved in helping both Luke and Hayley.