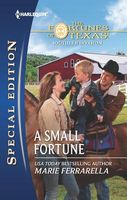 Series:
Fortunes of Texas: Southern Invasion
(Book 3)
A LITTLE FORTUNE IS A GOOD THING

Marnie McCafferty has received her share of propositions over the years, but never one like this. Little Jace Fortune is determined to make his new nanny a permanent part of the family. The problem is he hasn't bothered to okay his plan with his father, the amazingly hunky, comfortably rich and completely love-shy Asher Fortune.

Normally, Asher would be amused by his son's matchmaking efforts. But this time, Jace has struck a nerve. It would be all too easy for Asher to fall for the unaffected, straight-talking brunette who has become his son's nanny; all too easy for Marnie to mean too much. But the millionaire from Atlanta will consider no further investments of the heart-no matter how sweet the payoff might be....
Loved the book. Asher had moved to Red Rock for two reasons. First, he and his brothers had split with the family business because of what they saw as their father's betrayal. Second, he was trying to recover from his wife walking out on him and their son and thought a change of scenery might help. Jace is a handful and pretty darn smart for his age. When Asher hires Marnie to babysit Jace so that he can get some work done on their new house he doesn't expect or want to be attracted to her. He also doesn't expect Jace to be so taken with her that he wants to keep her.
I really liked both Marnie and Asher. Marnie works with kids as a riding instructor, she also babysits as a way to earn extra money. When Asher's cousin Marcus asks her to lend Asher a hand with Jace she is happy to do it. Jace takes to her quickly and figures out that if he is a pain to his father Marnie will get called to come take care of him. I liked the way that Marnie figured out Jace's scheme pretty quickly, but could also see how much Jace and Asher needed her. Marnie has a big heart and has a habit of getting involved with men who need her and then getting hurt. The more time she spent with both of them the deeper her feelings grew and the more she worried that history would repeat itself.
Asher was pretty much walking around in a fog. He couldn't get over the way that his wife had walked out on him and their son. He had been so sure that they could make their marriage work and was devasted, mostly for Jace's sake, that he had been wrong. Now he has sworn that he will avoid emotional entanglements since he can't trust his own judgement any more. When he meets Marnie and is instantly attracted to her he fights it as hard as he can. It's hard because she is there so often to take care of Jace. The more time he spends with her the more he feels. He loves how good she is with Jace and how different she seems from his ex-wife, but still doesn't trust himself. It was heartbreaking to see how much he cared but was too afraid to take the chance. I loved seeing the way he finally got it together and went after Marnie.
I really love seeing the closeness of the family and the way all the members are there for each other. Even when they don't know each other well, family comes first. The mystery involving Asher's father was only briefly mentioned, but they are still working on it.