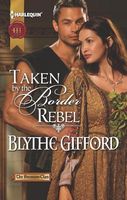 Series: Brunson Clan (Book 3)
Tormented by her innocence

As leader of his clan, Black Rob Brunson has earned every dark syllable of his name. But, having taken hostage his enemy's daughter in a fierce act of rebellion, he is tormented by feelings of guilt and torn apart with the growing need to protect her-and seduce her!

Stella Storwick feels Rob's disdain from the first. Then slowly she starts to see behind his eyes to a man in turmoil. Something he has no words for, something that can only be captured in a heart-wrenching kiss....
My favorite of the trilogy. Rob is the leader of his clan and must do what is best for them. When he comes across Stella Storwick, a member of his clan's mortal enemies, he seizes the moment and seizes her. His clan has already taken her father hostage and he finds that neither one is being searched for by their relations. Now he has to decide what to do with her.
I really liked both Rob and Stella. Both of them have found themselves isolated by the expectations others have of them. Rob has been trained by his father to take over the clan, but never felt as though his father thought he was ready. When his father died unexpectedly Rob felt unprepared for the responsibility. Added to these problems were the demands from the Scottish king that Rob provide men for his war and the results of Rob's refusal (see Return of the Border Warrior and Captive of the Border Lord). Now he finds that he is attracted to the daughter of his enemy and can't do anything about it. I really enjoyed seeing the way that being with Stella filled something in his soul that he hadn't realized was missing. I also loved seeing the way that she confused him and often made him rethink his attitude about something. The last chapters showed him finally come into his own.
I really liked Stella. All her life she had been treated like someone too good to be exposed to other people, leaving her feeling lonely and isolated. When she found herself a captive of the Brunsons she didn't know what to expect. What she got was being treated like an ordinary person and she loved it. I loved seeing her experience things like cooking and washing. I also loved the way she took care of Wat, showing one of the facets of her personality that had never been given a chance before. I also really liked the way that she wanted to find her place in the world. One of the things that I enjoyed most about her was the way she came up with the perfect solution for their problems half a book before Rob and the others did.