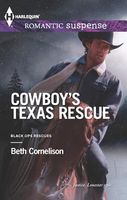 Series:
Black Ops Rescues
(Book 3)
"It's nice to have someone with your...um, skill set...around when there's a killer on the loose."

Taking out bad guys is in Jake Connelly's DNA as much as strength, fearlessness and Greek-god good looks. So is rescuing women like Chelsea Harris, who's kidnapped by a brutal escaped convict. What isn't in the cowboy hunk's DNA, Chelsea fears, is an interest in relationships-especially with a jilted size-fourteen plain Jane like herself.

With the killer on the loose and a Texas-size blizzard raging, Jake and Chelsea take refuge in an icy farmhouse. Sudden sparks between them turn on plenty of heat! But Jake has sworn to put his black ops career before distracting emotions. He needs to stay focused to stop the convict's reign of terror... and protect Chelsea from the danger of falling for him....
Very good book with intense action right from the start. Chelsea was carjacked by an escaped convict. Jake attempts a rescue but ends up captured with Chelsea before they are able to get away. As they hole up in an empty house to wait out the storm there is an attraction that burns between them. Jake also still wants to protect Chelsea and catch the convict.
I really liked both Chelsea and Jake. Chelsea is house sitting for her parents when she gets grabbed by the convict. When he stuffs her in the trunk of her car she is sure she is going to die. When Jake opens the trunk to let her out she is amazed by his good looks, but is also certain that he would have no interest in her. She is very down on herself because she has gained some weight and her ex-boyfriend was nasty about it. I really liked the way that she stayed calm with everything going on and was able to help Jake when he needed it. She had a great way of insisting on not being left behind when Jake wanted to go after the convict and I loved seeing her convince Jake. I really loved her sense of humor. She and Jake had some great conversations that were fun to read. I loved the way that she quickly understood Jake and his motivations, but even at the end she couldn't believe he wanted her.
Jake was back in Texas to see his sick father when he came across Chelsea. There was no way he was going to leave her in danger so he jumped right in. He had devoted a long time to his black ops career and fighting the world's evil as a way to honor his mother and make up for the guilt he felt over her death. Now he refuses to let emotions distract him from his mission. Jake was immediately drawn to Chelsea. She is different than most of the women he has known, curvier and more real. He likes the way she says what's on her mind and her sense of humor helps lighten the darkness he always feels. One of the things I really liked about him is the way that he sees Chelsea for who she is, not what she looks like. She also made him want things that he had given up on which made him feel even guiltier. It took him a long time to accept that he could have it all.
I really enjoyed the action in this book. I couldn't stop turning the pages because I wanted to see what was going to happen next. It sometimes seemed that Jake and Chelsea were never going to be able to escape. I really liked seeing Daniel and Alec from the first two books as they came to help at the end.