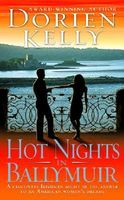 Series:
Ballymuir
(Book 2)
Playboy businessman Devlin Gilvane arrives in Ballymuir secretly intent on acquiring the beloved historical landmark Muir House for a lucrative real estate venture. No one recognizes him for the threat he is -- except Jenna Fahey, the beautiful American chef who turned Muir House into an international destination for gourmands. Jenna spent years working at the finest European restaurants before establishing her own and even though the lease is coming to a close, she isn't about to give it up without a fight. But even as Jenna thwarts Dev's pursuit, she can't resist his rakish charm. With Dev and Jenna locked in a dispute -- and a game of temptation -- there are bound to be some hot nights in Ballymuir....
Good book. I liked both Jenna and Dev. Jenna has been working hard for two years to make her restaurant one of the finest around. She has gotten quite a good reputation among diners. She has also made a place for herself in the village of Ballymuir. When Dev arrives in town she is immediately suspicious of him, especially when she catches him snooping around the grounds of Muir House. When she overhears a phone conversation about his company's intention to buy Muir House she is not at all happy with him. I really enjoyed her attitude about cellphones in her dining room and loved her solution to his last infraction. Another thing she had to deal with was her unwanted attraction to him. Jenna had rules for her everything in her life which made sure she was in control of what happened to her. Her attraction to Dev threatens that control but he won't let up. Pretty soon she decides to give in and have a fling but try to protect her heart. She also intentionally closes her eyes to what is happening on Dev's attempts to buy the house. She doesn't want to face the fact that it will probably happen and she'll lose everything. This nearly loses her everything in the end before she faces up to her issues. Besides her relationship with Dev I loved seeing Jenna with others in the town. Her sister's appearance and romance are a nice counterpoint to Jenna's and they have a chance to reconnect after so many years. I also loved Vi and her second sight and look forward to reading her story someday.
Dev was an interesting character. He started out as this strictly business, slightly sneaky guy. He chooses Ballymuir because that's where his mother is from and figures it's a good place to start. He's nosing around to get information on Muir House so his company can buy it and turn it into a resort. When he meets Jenna he doesn't make the best first impression when he nearly runs her down. He does notice her looks and an undeniable attraction. He feels pretty sure that he can talk her into his bed and still keep his acquisition of Muir House totally separate. He pursues her quite vigorously but soon finds that separation just isn't possible. There is something about Jenna that fills a void in him that he didn't realize he had. He gets to the point where he wants to tell her everything that is going on but is frustrated by her refusal to listen to any of it. Pretty soon he realizes that he doesn't want his company getting Muir House and is trying very hard to find another site that is just as good. He also finds himself getting sucked into life in Ballymuir, something that he never expected. Even more happens when his mother shows up. I loved seeing Dev deal with her and the new man in her life. Dev also has to finally confront what he is doing and how he intends to fix it. I loved the solution that he came up with.