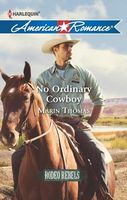 Series:
Rodeo Rebels
(Book 6)
Looking For Redemption...

Lucy Durango can't ever bring back her brother, killed in a drunk driving accident. But she's doing her best to honor his memory and to atone for her part in his death. She also can't seem to stop her feelings for Tony Bravo, the cowboy who broke her heart the same night her brother died. But if she gets close to Tony again, she risks losing her whole family this time-because they blame Tony for their tragic loss.

As a U.S. border agent, Tony sees his fair share of danger. But nothing stops his heart like seeing Lucy once more. Her family's anger toward Tony meant he and Lucy lost any future together. But Lucy has a hold on his heart again...and he's not at all sure he wants to let go of her this time.
Very good book. Lucy and Tony were secretly dating at the time of her brother's death. Afterward they drifted apart, unable to deal with their grief and guilty feelings. Now Lucy runs a free taxi service for people who have had too much to drink. She needs to raise some money to keep it going and decides to try bull-riding as a fundraiser, and asks Tony for his help.
I really liked both Lucy and Tony. Lucy has loved Tony for years, but was unable to handle the guilty feelings over what she felt was her part in Michael's death. She has poured those feelings into her taxi service. Her parents don't approve of her efforts and give her no support. When she decides on bull-riding she swallows her pride and asks Tony for help in learning how to do it. I really loved her determination to do anything she can to keep her service going. Seeing Tony again made her realize that her feelings for him had never gone away but she tried hard to keep them from affecting her plans. It also became obvious that he still had feelings for her, but she was sure that those feelings would die if he knew about her part in her brother's death. She also had to deal with her parents' feelings toward Tony, and her own feeling that she had never been good enough to receive her father's love. I loved the way that she stood up to both Tony and her father to do what she felt needed to be done. I think she was a lot stronger than either of them gave her credit for.
Tony had been Michael's best friend. They competed together in rodeos and hung out together when they could. Tony felt guilty for not being there for his friend the night he died and as a result ended his relationship with Lucy. He was sure she would hate him for that. When she came to him for help he tried to talk her out of it but gave in when he saw her determination to compete with or without his help. His feelings for her were as strong as ever and he was determined to keep her safe. I loved watching him unsuccessfully fighting those feelings. As a border patrol officer he was also investigating a human trafficking ring. He enlisted Lucy's help to get access to her father's land for that investigation. I also enjoyed seeing how good he was at that job. As part of his guilty feelings he had requested a transfer away from the area in an effort to escape the memories.
There was a lot of pain in this story as both Lucy and Tony had to deal with Michael's death and the hole it created in their lives. They had to learn to accept that nothing could change the events of that night. I liked seeing the way those events impacted more than just Tony and Lucy. I loved the dog Maddie and her part in the story. The epilogue was great - brought things to a very satisfying conclusion.