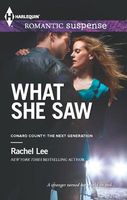 Series:
Conard County: The Next Generation
(Book 14)
"IF HE WAS MURDERED, YOU'RE THE LOOSE END."

Waitress Haley Martin has made a small, safe life for herself: no big surprises, no falling in love. In one night, that calm world is shattered. A truck driver is dead, a sexy former military cop needs her help to solve the murder, and she might be next on the hit list.

There's something big going down in this sleepy county. Buck Devlin needs to keep Haley close-and he's had worse cover stories than pretending to be in love with a beautiful blonde. But the more danger they expose, the harder it is to remember their love story is just a cover....
Good book. I liked both Haley and Buck. Hayley has led a quiet life, working as a waitress at the truck stop and working on a nursing degree. She's not looking for love, but she has noticed Buck whenever he has stopped at the diner. When she finds out that her connection to a murdered man may put her in danger she finds it hard to believe. I liked the way she stood up to Buck at the beginning, not automatically believing everything he was telling her. I also liked the way that once she did believe, she was willing to do whatever was needed. She had a very logical mind and was a big help to Buck in figuring out the puzzle of what was going on. With the amount of time she was spending with Buck as his pretend girlfriend she found that her attraction to him was growing stronger. She knew that he would be leaving once the mystery was solved, but it didn't stop her falling for him.
Buck is a self described bulldog. When he was an MP he wouldn't give up on an investigation until it was done. He was asked by his supervisor at the trucking company to check on something connected to the murder. When he realized that Hayley might be in danger he was determined to protect her. He had been noticing her for months so asking her to provide him cover was no hardship. He didn't expect his attraction to her to turn to more so quickly. He worried that things he did put her in more danger but he still stuck to her. I liked the way that he listened to her ideas rather than just depending on his own experience.
Most of the book was spent on the more mental activity of puzzling out who the bad guys were and just what they were doing. Most of the heart pounding action came in the last couple chapters. I really enjoyed the differences. I also liked seeing a few familiar faces from previous Conard County books.