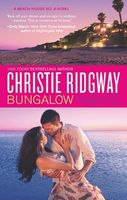 Series:
Crescent Cove CA
(Book 2)
Combat medic Vance Smith made a promise to a fallen officer: to treat the man's young daughter to an idyllic vacation at Beach House No. 9. One month, some sun and surf, a "helmet list" of activities to check off and Vance will move on. But the "little girl" he's expecting turns out to be a full-grown woman. With silky hair, big brown eyes and smelling sweetly of the cupcakes she makes for her mobile bakery, Layla Parker is irresistible. And Vance shouldn't lay a finger on her. Honor--and one heck of a scarred heart--says so.
To Layla, Vance is a hero who was injured trying to save her father's life. She intends to spend their month of lazy days and warm nights taking very good care of the gorgeous soldier--inside and out....
Very good book. Colonel Parker is the one man Vance wasn't able to get off the battlefield alive. But he made a promise that he would take the man's young daughter on a vacation and do the things he had kept putting off with her. So Vance set everything up and waited to meet the girl. He was stunned when he discovered that Layla was actually a full grown and beautiful woman. He is instantly attracted to her, but considers her to be "hands off."
I really liked both Layla and Vance. Layla has always kept a tight hold on her emotions. Her mother left when she was two, so she was raised by her soldier father and his hippie brother. While she knew she was loved excessive emotions were not something that were shown in her family. Also, as a military brat, relationships of any kind tended to be brief and fairly superficial because their lives were so transient. When she met Vance she too was attracted. She also didn't want to do anything about it because the inevitable end would be too painful. She considered Vance to be a hero so she was determined to go along with his plans. Because of her years of burying her emotions she still hasn't really dealt with her father's death. She also sees Vance's issues with his family and wants to help him get back together with them. Never having had a family like his she doesn't want to see him lose it forever. There is a lot of growth in Layla as she learns to open herself up to possibilities. She still has a tendency to retreat when the feelings get intense, but she also sees the happiness that is possible if she can just reach out and grab it.
Vance's guilty feelings for not saving the colonel are what caused him to agree to spend the month with the colonel's daughter. When he discovered that she was an adult he was ready to run. His intense attraction to her was not in his plan and it made him feel even guiltier. He was also trying to avoid his family who he'd been estranged from for years. He had been a wild teenager, mostly in reaction to what he saw as his older brother's perfection (loved his nickname for his brother). This caused his father to refuse to bring him into the family business, claiming that Vance was too irresponsible to do the job. Then his fiancee dumped him for his brother causing even more tensions. It was heartbreaking to see just how much Vance wanted to reconnect, but refused to allow himself to admit it.
He had some really eye opening moments that helped him come to terms with his family and finally find some peace.
That caring transferred to Layla and I loved the way he tried so hard to do the things her father wanted done. He tried so hard to resist the physical attraction but every time he thought he had a handle on it something would happen to reinforce it. He too would retreat when he was trying to resist. I loved the way that he would find himself telling her things that he never told anyone else and how much it would surprise him. He spent a long time refusing to admit the strength of his feelings to himself much less to her.
I loved the way that both Vance and Layla understood each other far more than they understood themselves. There were some very emotional moments between them and also some very fun ones. I loved the way that Layla would step in to defuse tension between Vance and his brother - some of those times were really funny. Vance was also very good at sensing Layla's emotional needs and being there for her.
I really enjoyed the secondary romance between Baxter and Addy. He was so uptight and OCD that seeing him deal with her laid back side was pretty funny. She did a great job of needling him into letting go. I liked his unwilling possessiveness and how he ended up showing it. The mystery she was working on was pretty good, but only partly solved. I really hope we get the rest of it in the next book.