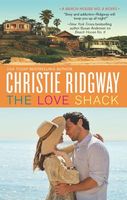 Series: Crescent Cove CA (Book 3)
Globe-trotting photojournalist Gage Lowell spent carefree childhood summers in Crescent Cove. Now that he desperately needs some R & R, he books a vacation at Beach House No. 9 -- ready to soak up some sun and surprise old friend and property manager Skye Alexander. Their long-distance letters got him through a dangerous time he can't otherwise talk about. But when he arrives, the tightly wound beauty isn't exactly happy to see him.

Skye knows any red-blooded woman would be thrilled to spend time with gorgeous, sexy Gage. But she harbors secrets of her own, including that she might just be a little bit in love with him. And she's convinced the restless wanderer won't stay long enough for her to dare share her past -- or dream of a future together. Luckily for them both, summer at Crescent Cove has a way of making the impossible happen….
Fantastic conclusion to the series. Gage and Skye had been friends since they were children. They recently got close again when she started writing to him. Gage has returned to Crescent Cove for some much needed recovery time. He is also looking forward to spending some time with Skye, whose letters were a bright spot during some very dark days. When he gets there she doesn't seem to be that thrilled to see him and seems awfully jumpy too. Both of them are fighting demons that only the other one seems to be able to vanquish. There is also an intense physical attraction that seems to have no possible future.
I really liked both Gage and Skye. I loved her devotion to Crescent Cove and its past and traditions. She obviously takes her job very seriously. In the previous books there are enough scenes with her to show how much time she devotes to it. We also get to see the beginnings of the mystery of the missing jeweled collar which plays a bigger part in this book. There are also hints of her relationship with Gage. At the beginning of the book she is frightened by his sudden appearance as she is not expecting him. In spite of their closeness via letter, she tries to keep him at arms length in person. This worries Gage as it is far different than the Skye he knows from her letters. Skye has tried very hard to keep her secret and protect herself, but Gage soon gets it out of her. In the process their attraction burns out of control. I loved the way that even though she was skittish around everyone else she instinctively trusted Gage. That trust allowed her to accept the attraction they felt and to give in to it. She still had times she wondered what she was doing because she knew he wasn't going to stay.
Gage is the twin brother of Griffin (Book 1 -
Beach House No. 9
). He is a photographer who works in war zones and was recently in a very dangerous position. He has come to Crescent Cove to try to recover before he heads back for a new assignment. He refuses to talk about it to anyone, insisting that people are imagining things, but Skye especially senses that there is a deep rooted problem. I loved the way that Gage uses his own sensitivity to help Skye deal with her trauma. He shows incredible kindness even as he is fighting his own demons. Once they give in to their passions he makes sure she knows not to expect any commitments as he will be leaving again. He says it so often that you start to wonder if he's trying to convince her or himself. I loved the way that Skye finally cornered him and refused to let him get away with shutting her out any longer. After that it seemed that things were slowly getting better for Gage, but he was still insisting on going back. I really loved the way that they worked together to solve their issues. I also loved the fact that they started out as friends before they became lovers.
There was also a secondary story between Teague and Polly that was just as good. Teague was a regular in the first two books and I was very happy to see that he was getting a romance of his own. He and Polly had also been friends for years. He is a bit of a party animal but always makes time for his best friend Polly. Meanwhile Polly is about fed up with him. She has been in love with him for years, but he just doesn't see it. I loved the way that she finally got his attention.
The conclusion of the story was great. I loved the resolution of the necklace mystery (I had guessed the bad guy in book 2). The epilogue was especially fun.