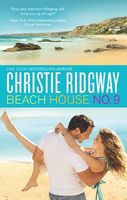 Series:
Crescent Cove CA
(Book 1)
When book doctor Jane Pearson arrives at Griffin Lowell's beach house, she expects a brooding loner. After all, his agent hired her to help the reclusive war journalist write his stalled memoir. Instead, Jane finds a tanned, ocean-blue-eyed man in a Hawaiian shirt, hosting a beach party and surrounded by beauties. Faster than he can untie a bikini top, Griffin lets Jane know he doesn't want her. But she desperately needs this job and digs her toes in the sand.
Griffin intends to spend the coming weeks at Beach House No. 9 taking refuge from his painful memories-and from the primly sexy book doctor who wants to bare his soul. But warm nights, moonlit walks and sultry kisses just may unlock both their guarded hearts....
Fantastic book. There's always a lot of humor and emotion in Christie Ridgway's books and this was no exception. I loved both Jane and Griffin. Jane has been sent to get Griffin back on track in writing his book about his year with the troops in Afghanistan. After the trouble she had reaching him by phone or email she wasn't expecting to find him in the middle of a party at his beach house. She also wasn't expecting the immediate zing of attraction she felt for him - something that was very unwelcome. She had just ended a job with another author with whom she had developed a relationship and then gotten burned. She needs this job with Griffin to work out. Griffin hasn't done any work on his book since he returned home. The memories of his time there, of the things he saw and the people who were lost, are too painful for him to revisit. He surrounds himself with people and noise trying to drown them out. He has also shoved his emotions deep so that he won't feel the pain. He lets Jane know that he doesn't want her around and does everything he can to drive her away. I really liked the way that Jane refuses to be dismissed. She is determined to make this job work and is very creative in her ways to try to prod Griffin into doing what needs to be done. I loved the way that she got to him with her unpredictability and refusal to be ignored. Besides her need to make this job work, she is also dealing with some issues stemming from her relationship with her family. She was raised by her father, an emotionless scientist who was constantly putting her down, calling her silly and emotional. She decided to take advantage of her attraction to Griffin and enjoy the physical relationship but keep her emotions out of it.
Griffin doesn't want to face his memories by writing his book. He tries to drive Jane away, but she won't go. He also discovers that she has invaded his thoughts and he can't get rid of her there either. She has read all the articles he wrote while he was in Afghanistan and knows that he has the ability to write a fantastic book, but tells him he has to put his emotions into it. When he finds out why she has to be successful in getting his book done he decides to go ahead and do it. He also realizes that having her there has made the process more bearable for him. He is still trying to convince himself that their relationship is just physical, but spends a lot of time doing things for her and to her to try to counter the effects her father and others have had on her. I loved the way that he was verbally so gruff and rude at times but if you watched his actions you could see the true Griffin that was under the ice. His final facing of his life and emotions was excellent and he was able to go after what he really wanted. I also loved all the secondary characters and stories. His sister Tess and her husband were having problems that had to be faced and I loved how real it felt. There was also a storyline with Skye and Griffin's twin Garrett that I suspect will be the focus of book three. The second book with one of Griffin's friend and the daughter of the other soldier looks to be fantastic. I also hope that we'll see more of the firefighter "Tee-Wee".