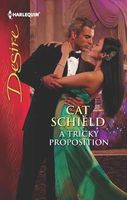 A Baby Between Friends?

Ming Campbell always has a plan. She is no longer in the market for love, having been burned one too many times, but starting a family is at the top of her to-do list. There's no better sperm donor than her best friend, Jason Sterling. Only, the rule-breaking tycoon has a proposal of his own: conceive their child the old-fashioned way.

With one kiss all the rules crumble. Now that passion is unleashed, everything's complicated -- from their friendship to their families…to Ming's secret dream of a future with Jason. But will nothing go according to the agenda in this baby bargain?
Good book. Ming was tired of trying to find true love but still wanted a family of her own. So she has decided to go ahead with a plan for single motherhood. Problem is, she doesn't really want to go with an anonymous sperm donor, so she asks her best buddy Jason. They have been friends for most of their lives. When she puts the proposition to Jason he agrees - but he wants to make the baby the natural way. Ming has cared for Jason in ways far stronger than just friendship for a long time but she knows he isn't interested in falling in love and settling down. As soon as they make their friendship physical she knows she's in trouble. She finally admits to herself that she's been in love with Jason for a long time and she wants her own happy ending with him. Jason cherishes his friendship with Ming. He has sworn never to open himself up to the risk of devastating loss by falling in love. He has seen too many people made miserable by that emotion. When he makes his bargain with Ming he thinks of it as his chance to satisfy his curiosity about the physical attraction he feels for her. He refuses to see that the feelings he has are actually love and works hard to convince her and himself that it is only friendship. I loved seeing him fight against the inevitable and how everyone but him could see what was happening. Watching him finally admit the truth was very satisfying. I also loved seeing the Case brothers again and the scene with Jason and Max's car was great.