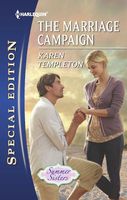 Series:
Summer Sisters
(Book 3)
HE'S THE MAN WITH A PLAN

Maid of honor at her cousins' double wedding is as close as Blythe Broussard plans to get to tying the knot again. But Wes Phillips refuses to take "I won't" for an answer. The widowed Maryland congressman is passionately campaigning for a date with the once-burned D.C. designer. And Wes's eleven-year-old son just joined the race.

Getting reelected isn't as important as winning Blythe's trust and convincing the guarded beauty to take a shot at love...even if her scandalous past threatens to derail Wes's political future. His future with Blythe comes first-if they're both willing to risk their hearts for a second chance that's worth fighting for.
Excellent book. I really liked both Blythe and Wes and was rooting for them to get their happy ending. Blythe is helping her cousins plan their weddings and spending time with her youngest cousin, who is best friends with Wes's son Jack. Therefore, Wes and Blythe find themselves together fairly often. Wes doesn't see himself wanting to remarry any time soon as he and Jack are still grieving for his late wife. So he is surprised by his sudden attraction to Blythe, but that attraction grows stronger very quickly. Blythe was married once and it didn't turn out well. She has convinced herself that she will be quite happy as the "aunt" to her cousins' children, but realizes that it also means she is going to be rather lonely. Blythe also recognizes that Jack is having some serious issues because his dad's work as a congressman keeps him away from home a lot. She had problems of a similar kind when she was Jack's age and knows what kind of trouble it can lead to so she tries to help. But Jack also is resisting the idea that his father might be interested in a woman other than his mother and makes his unhappiness known. Wes is a terrific guy and really nice on top of that. He recognizes that he is falling hard for Blythe, but she is also resisting. She doesn't want to cause more problems for Jack, plus her problems as a teen could create problems for Wes's political career. I could see how she was sacrificing her happiness for what she saw was the greater good of Wes and Jack's lives, because she just didn't see herself as worth the hassle. I loved his persistence and how hard he worked to show Blythe that it was possible for them to be happy together. I loved the friendship between Quinn and Jack. She was understanding of his problems but also had no trouble telling him when he was being an idiot. They both seemed like pretty typical eleven year olds. I also liked the continuing story of the relationship between the three cousins and how they were always available for each other. I thought that the way that Wes finally convinced Blythe was great, especially how he figured out how to deal with her past. The epilogue was the perfect wrap-up.