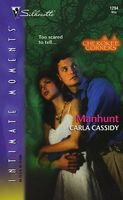 Series:
Cherokee Corners
(Book 4)
THERE WAS SOMETHING SHE WASN'T TELLING HIM...

Something that could help catch a dangerous serial killer. FBI agent Nick Mead had precious little time to convince the troubled Native American beauty that she could trust him with anything and that he would safeguard her no matter the cost.

How could Alyssa Whitefeather tell this sexy agent that she'd been making love to him in her mind long before he ever walked into her bed-and- breakfast and asked for a room? How could she tell him that she'd been having visions of the serial killer's next victim? But then, how could she not -- when instinct told her it was him?
Excellent book. Nick had come to Cherokee Corners to help catch a serial killer. As a profiler he had a lot of experience with serial killers - including the one that had killed his wife and was still at large. When he met Alyssa he was immediately drawn to her, but she looked at him with fear in her eyes. Alyssa didn't know how to tell him about her visions. Most people either thought she was strange or were afraid of her because of them. I really liked Nick. He was very intense about his job, but he had also learned how to remove himself from the stresses that went with it. I loved the way that he was so accepting of Alyssa's visions and how he worked so hard to help her through them. I also liked the way that he was so comfortable talking about his late wife, and that her death hadn't made him want to avoid falling in love again. Alyssa had been dreaming of Nick for a month before he showed up. She saw herself loving him and killing him which terrified her. She hesitated telling him about her visions because so many people gave her a hard time about them. She has spent her whole life not getting too close to people because she felt that her visions would cause her to spend her life alone. As she and Nick got closer physically and emotionally she knew she would have to make a decision. I also enjoyed the suspense. As the task force worked to figure out who was doing the killing I enjoyed seeing the relationships among all the people. I actually figured out the killer before the end of the book, but there were a couple of twists that made me wonder if I was right.