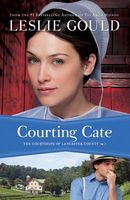 Series:
Courtships of Lancaster County
(Book 1)
When Amish farmer Pete Treger moves to Paradise Township, Pennsylvania, seeking a better life, he meets sisters Cate and Betsy Miller. Both are beautiful, but older sister Cate is known more for her sharp tongue and fiery temper than her striking appearance. Betsy, on the other hand, is sweet and flirty--and seems to have attracted most of the bachelors in Lancaster County!

However, the sisters' wealthy father has made one hard and fast rule: elder sister must marry first, before the younger can even start courting. Unfortunately for poor Betsy, and for the men who want to court her, her older sister, Cate, doesn't have any suitors--until Pete comes to town, that is.

Though he finds both sisters attractive, something about Cate's feisty demeanor appeals to him. Soon the other bachelors in the district convince Pete to court Cate. She hardly seems receptive to his overtures, though. Instead, she's immediately suspicious of his interest.
I loved this book - it was an Amish version of Taming of the Shrew which is my favorite Shakespeare play. Cate is an unmarried Amish woman who would rather work in her father's business than marry. Her younger sister Betsy is just the opposite. She is an excellent homemaker and really wants to marry her beau. Their father is worried that Cate, who is sharp-tongued and has a temper, will never find a mate, so he decrees that she must marry before Betsy can do so. When Cate meets the new man in the neighborhood sparks start to fly. Pete seems pretty determined to court her and she is suspicious of his motives. I liked the way that they got along when she forgot to be so prickly. They had a lot in common. He also was pretty laid back when she got her temper up. Her suspicions and some other events caused some major misunderstandings. We learn more about why Cate is the way she is and how Pete came to his current situation. There are some unexpected twists in the story that had Cate questioning her future. Her journey from Contrary Cate to Sweet Cate was wonderful and very emotional. I loved the ending. The characters in this story felt very real to me and ones I could relate to easily. I wanted to smack Betsy many times. I'm not sure that she learned her lesson by the end, but time will tell. Pete's mother was a piece of work, but definitely had her place in helping Cate to grow into her role. I'm looking forward to the next book in the series.