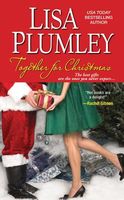 In a hilarious and heartwarming novel from USA Today bestselling author Lisa Plumley, a down-home diner owner meets a sexy Scrooge -- but will it be a match made in holiday heaven?

Casey Jackson doesn't do Christmas. Mistletoe, eggnog, pitchy carolers -- it all leaves the L.A. based talent agent colder than a winter sleigh ride. Nonetheless, Casey's been called to Kismet, Michigan, to help get a pop star's holiday special back on track. But it's the diva's sister who's proving the biggest obstacle. Kristen Miller is funny, sassy -- and crazy about Christmas. And suddenly, Casey has all kinds of visions dancing in his head…

Kristen can't believe that Casey is anti-Christmas. To her, the season is as magical as the thrill she feels whenever they touch. Because even though Kristen set out to teach the charismatic hotshot a thing or two, she's learning some lessons of her own. About letting herself stand in the spotlight for once, about holiday flings that can turn into much more -- and about how all you really need for the perfect Christmas is the right person to share it with…
Casey is in Kismet to get Heather's TV special back on track, but the place is driving him nuts. It is over the top Christmas everywhere he looks and he isn't a Christmas guy. Heather has told him that all she needs is for him to keep her sister out of her hair. Then she tells Kristen that Casey is there to shut down the production and to try to keep him away from the set. At first meeting they really don't like each other, but are forced to spend time together. Kristen is determined to get Casey involved in some Christmas spirit. Casey would like to get closer to Kristen. I liked Kristen's Christmas spirit and the way she tries to get Casey on board. She has some real sibling rivalry issues with Heather that have contributed to her extreme Christmassyness. She still loves her sister but it is mixed up with other feelings also. I liked Casey's ability to help people find solutions to their problems. It shows a real way with understanding people and what makes them tick. I also enjoyed seeing the way that Kristen was able to get him to participate and enjoy various Christmas activities. Both of them showed some real character growth by the end of the book. Their story was overrun on many occasions by the secondary characters. Heather was creating the problems on the set because she wanted more time with the guy she had a crush on and had no problem using her show to do it. I thought she was terribly manipulative throughout most of the book, but finally exhibited some redemption at the end. There was also a romance between two of Kristen's employees that started when they were trying to protect Kristen from Heather's paparazzi. I enjoyed their story but there was so much of it that it was a distraction from Casey and Kristen.