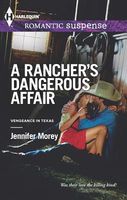 Series:
Vengeance in Texas
(Book 2)
"You still push every one of my buttons."

Not long after Eliza Harvey-Reed got married, her husband David's infidelity proved she married the wrong brother. But was Brandon Reed, her old high-school flame, the right one? Now Eliza's back in their hometown of Vengeance, Texas. And when she first lays eyes on Brandon, it's obvious the heat between them is as all-consuming as ever.

Brandon Reed's still furious that Eliza married his brother. Even more frustrating is that he can't help being drawn to her like a moth to a flame. But when David is murdered, Eliza tops the suspect list. Now Brandon must help clear her name before the real killer destroys his second chance at true love....
Good book. Eliza and David arrive in Vengeance because she is doing a birthday party for her brother. They are going to stay with David's brother Brandon, who Eliza had been in love with as a teenager. When they see each other again the attraction flares back to life, stronger than ever. David has been acting strangely, as if he's afraid of something. He also disappears, then is seen with two different women. When he turns up dead Eliza is suspected of killing him. There is also someone leaving her threatening notes, Brandon's father has escaped from prison, and someone seems to be trying to kill her. Both Eliza and Brandon have some issues that initially drove them apart and may keep them apart now. Eliza's father died while she was in high school and she saw her mother fall apart. That caused her to shy away from strong emotions such as her feelings for Brandon. It was one of the reasons she went a little wild as a teenager which caused Brandon to pull away from her. Brandon's father had been abusive to him and David. Brandon was the one who testified against his father and helped put him in prison. He always felt guilty for not being able to protect his brother better. Now he has added the guilt he feels about his attraction to Eliza. He also avoids getting close to women because he feels it is safer that way. He thinks that he has a good chance of turning out like his father and doesn't want to take the chance of hurting someone. He and Eliza spend a lot of time in this book poking at each other's psyches. The culmination of the mystery of who was after Eliza had a couple of unexpected twists but was well done.