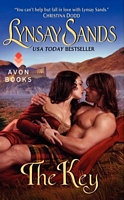 Series:
The Deed
(Book 2)
Iliana Wildwood would do anything to escape from the depraved baron who sought her lands -- including marrying a barbarian. Fleeing to the Highlands, Iliana was wedded to Duncan, laird of Dunbar Castle. Certainly, there was something about the virile warrior that made her weak in the knees --but she refuses to allow him into her bed until he agrees to become more civilized.

Determined therefore to resist her handsome husband, Iliana found a way to keep her secrets safe. Employing a belt of chastity, the spirited beauty managed to thwart his determined advances. But then her husband changed his tactics and begins a sensual assault that sent her intentions up in smoke. And as the air cleared, Iliana found that it had been her heart she had locked away, and that this stubborn Scot had finally found...The Key.
Very good book and lots of fun. Iliana knew she had to marry Duncan in order to keep herself and her mother safe. But she was dismayed and disgusted by the condition of the keep and the people. The keep was filthy, the people dirty and dressed in rags and her new husband was the worst of the lot. The first thing she did was to put on the chastity belt she had brought along as a curiosity to protect herself until she could convince her husband to bathe. Then she rolled up her sleeves and got to work cleaning the keep. It was hard at first getting the people to cooperate with her, but she won over the women pretty quickly by be willing to participate in the work herself. Duncan was not very happy about being married without the benefits of it. But he refused to change his ways just for her when it had worked for him for most of his life. He also didn't like the way that everything around him seemed to be changing. I loved the confrontations between the two as both are strong willed and determined that the other be the one to give in. There are also some wonderful scenes involving other people in the keep. I loved the part where Iliana was passing out new plaids and the women lined up to get them and also for a chance to bathe, but the men were still being stubborn and following Duncan's lead. I also loved Iliana's creativity when they were under attack and how she helped defend them all. There was some very good character growth in both Iliana and Duncan as they learned that to have a good marriage involves both love and compromise. I really enjoyed Duncan's father and how he was always ragging on Duncan about his "randy ways" when Duncan wasn't getting any at all. I also enjoyed seeing him and Iliana's mother together and the way they tried to help Duncan and Iliana. I also loved the insights into Duncan's character that came out in various places in the book that helped Iliana see that he wasn't quite the barbarian the she thought he was. The ending was fantastic.