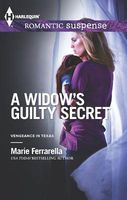 Series:
Vengeance in Texas
(Book 1)
"Watch over my baby."

As the mother of a newborn, Suzy Burris is accustomed to sleepless nights. But tonight, she's waiting up for her husband, Peter, to tell him she wants a divorce. Instead, she learns he's been murdered. And the sexy detective who's just delivered the shocking news is asking questions indicating she's a suspect.

When Detective Nick Jeffries left Houston for the sleepy town of Vengeance, Texas, he hoped to leave behind the city's grisly homicides. The latest triple murder to hit his desk nixes that idea. Being attracted to the widow of one of the victims is the last thing he needs. But when Suzy and her baby are threatened, he'll risk all to keep them from a killer's crosshairs….
Good book. I liked both Suzy and Nick. Suzy felt that her marriage has been over for a long time. Her husband has been keeping secrets, is withdrawn and hardly ever home and she's had enough. She is ready to ask him for a divorce when she learns he's been murdered. The detective who comes to tell her also has a lot of questions for her. At first she is angry with him for treating her like a suspect, but when they move on from that she realizes that she is attracted to him. As they work together to try to find out who murdered her husband that attraction only gets stronger. Nick suspects Suzy of the murder at first, but soon realizes she had nothing to do with it. He is disturbed by his attraction to her but tries to ignore it as he works to find the killer. The more he and Suzy find out about her husband the more they realize that this is a bigger mystery than they thought. Nick's feelings for Suzy grow quickly and he works to protect her and her son and sister. There are several interesting plot twists and I'm looking forward to seeing how the series goes on.