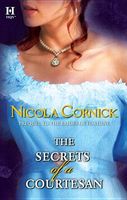 Series:
Brides of Fortune
(prequel)
All's fair in love and matrimony in Nicola Cornick's wildly romantic new series that introduces the ladies of Fortune's Folly--spirited heiresses who are more than a match for society's most dashing rogues!

The epitome of privilege and power, the handsome Duke of Welburn sets all the ladies' hearts aflutter as he strides into the village of Fortune's Folly.

For Eve Nightingale this fluttering is a mixture of wariness and wonder. Once his glittering society mistress--caught up in his glamorous world by day and tangled in his bedsheets by night--she is now no more than a penniless yet proud shopkeeper.

It's a world Eve can't go back to--she has secrets to keep. But this determined duke seems very keen on unravelling them....
Good story, though I would have liked it to be a little longer. Welburn has been sent to Fortune's Folly because Eve is suspected of being in league with local criminals. This is the first time he has seen her since she disappeared without a trace five years earlier. He was hurt and furious and all too willing to believe ill of her - until he actually sees her again. Suddenly things aren't adding up and he is determined to find out why. Eve was heartbroken when she left him, but she loved him too much to allow him to throw his future away on her. She is furious at his attitude, but knows that she still loves him. She allows herself to be coerced into helping him, but ends up defending herself from trouble before he can rescue her. Short as it was there was enough heat and action to make it a satisfying read.