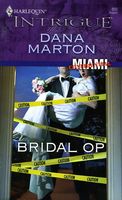 Series:
Miami Confidential
(Book 4)
THEY WERE A KIDNAPPED HEIRESS'S LAST CHANCE...

As a Confidential agent, Isabelle Rush's assignment included tracking down and rescuing a kidnapped heiress in South America -- not encouraging the attention of her infuriatingly gorgeous and highly skilled partner, Rafe Montoya. Between the stray bullets surrounding them and the local cops arresting them, remaining focused was key to their survival.

But time was running out and their high-stakes mission was putting Isabelle's undercover training to the ultimate test. Now, she would do all she could not to fall prey to an elusive enemy...or to Rafe's playboy charms.
Good book. The action starts from the first page and doesn't let up through the book. Rafe and Isabelle have worked together for three years but this is the first time they have spent this much time together. Rafe has a reputation of being something of a playboy, never dating the same woman for long. But there has always been something about Isabella that has always appealed to him and now he is finding more about her that he likes. I loved the way that his mind kept going to the idea of an actual relationship with her, which freaked him out a bit at first, but the idea grew on him. I really liked the way that he was so protective at the beginning but then realized how good she was and began to really appreciate her abilities. Isabelle has noticed Rafe for a long time, but was irritated by his playboy ways. During this mission she gets a chance to see another side of him. I really enjoyed seeing Rafe's surprise as the time passed and she showed that she understood him and how his past affected him. I loved their visit with his family and the effects it had on both of them. I really liked how well they worked together on rescuing Sonya. There were plenty of tense moments of danger that kept the story moving. I loved the ending - Rafe was such a romantic!