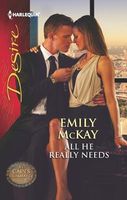 Series:
At Cain's Command
(Book 2)
There's nothing a Cain can't do

No doubt about it, Griffin Cain makes love better than any man. Night after night his decadent, sensual acts turn conservative Sydney Edwards into a wanton woman. But all that stops when Griffin is made CEO of his family company…and becomes Sydney's boss.

Griffin's father's desperate ultimatum has put a billion dollars and a legacy at stake, and now Griffin needs his forbidden lover's help more than ever -- in the boardroom. As for the bedroom, why can't he have it both ways? Nothing will stop Griffin from getting Sydney back where she belongs.
Good book with quite a few issues going on. First up is the continuation of the search for the missing illegitimate daughter. Dalton had gotten some information by the end of the first book in the series (All He Ever Wanted). Then he resigned and turned the CEO position over to Griffin. As second son, not much had been expected of Griffin and he played that up whenever he could. He used his position in International Marketing to hide his activities with a charitable foundation because his parents were as anti-charity as anyone could possibly believe. Griffin had also been having an affair with his brother's assistant Sydney. The passion between them was incredible, but they didn't really share anything about themselves outside the bedroom. Sydney had grown up in foster care and worked very hard to get where she was. She never wanted to be one of those women who slept with her boss, and when Griffin took over the CEO job she tried to end their liaison. But he really needs her help doing his job and finding his half-sister. I really enjoyed seeing Sydney stick to the strength of her convictions. I loved the way that she stood up to Griffin's mother and refused to be intimidated. I also liked seeing her call Griffin on his nonsense and then walk away from him. Griffin was an interesting character. His parents' manipulations, especially his mother's, had had a real effect on him, making him doubt his ability to be loved. He kept insisting to himself that what he and Sydney had was just sex, but after awhile he couldn't fool himself and realized that she had gotten closer to him than anyone else ever had. She also knew him better than anyone else did which really made him nervous, especially when she confronted him near the end of the book. I loved the way it was such an eye opener for him. I still really hate his parents. I'm looking forward to the next book and getting to know Cooper.